The Club is holding a darts and domino night in the clubhouse on Sat 2nd Nov starting at 7 pm.

Please feel free to come along to an evening of wit and banter


There will be an Italian theme night in the Clubrooms on Sat 12th Oct starting at 7pm.

Tickets are priced at £3 for which will include a gourmet (ish) Italian meal.

There will also be some fun and games aswell as live music.

Please get your tickets from behind the bar or by contacting Rob Hogg Snr or Dougie Munro.

Chio.


The annual Welsh Shield competition took place on Sat 5th Oct and this year the format was pairs.

Each pair played 3 games of 8 ends and the winners being the pair with the most wins then shots up.

After a great afternoons bowling in some fantastic October sunshine the eventual winners were the pair of Mabel Dick and John Taylor with 3 wins from three. The runners up were the pair of Bye Hogg and David Lightbody with 2 wins and a draw.

Winners; M Dick, J Taylor (skip)
R-UP; B Hogg, D Lightbody


The annual Welsh sheild competition will be held on Sat 5th Oct.

This is a triples tournament drawn out of the hat.

Could all intended entries have their names in the hat for 12.45pm


The Club will be closing the green on Sunday 6th Oct.

The annual past presidents V the rest game will take place before President Taylor brings the playing side of the Season to a close.

Anyone intending playing please be down for 1.30pm with the game starting at 2pm


The Clubhouse will be open throughout the winter for various functions.

Winter Opening hours are

Monday Evenings 7pm - 11pm
Friday Evenings 7pm - 11pm (only when the darts team are at home)
Saturday Evenings 7pm - 11pm
Please keep an eye on this website for forthcoming events


The annual presentaton night will be held in the Clubrooms on Sat 16th November.

Tickets are priced at £5 but due to limited space, only 60 places are available and will be sold on a 1st come 1st served basis.

This year there is no buffet and music is provided by Vince Ervine.

Tickets are only available from behind the bar.

Hope to see you there!!


The Open Pairs has been re sheduled for Sun 29th Sept after the origional date was rained off.

Entries can be taken by D Lightbody on 07852230477 or G Nagle 07929763451, or names on the sheet in the clubhouse



This Years final was played between reigning champion Laura Lightbody and Margaret Gray.

On a damp and dreich night the ladies took to the green and gave the watching spectators a very entertaining game.

Laura was the 1st to score and moved into a 3-1 lead before Margaret managed to find her range.

Margaret was playing well and started to dominate procedings leaving Laura having to play some great bowls just to stay with her.

The scores reached 13 all and then Margaret surged ahead in to a 17-13 lead. Laura had to dig deep and she managed to level things up at 17 then 18 all.

On what proved to be the last end Laura was lying the 3 required shots and Margaret had one remaining bowl. She had 3 shots in waiting at the back of the head so she decided to play a heavier shot to trail the jack back to lay game herself.

Margaret was a touch unforunate in the result as she did manage to hit the jack but she was only able to glance it sideways and Laura remained with the 3 shots to win the game and title by 21-18

Winner; Laura Lightbody
R-up; Margaret Gray



On Sunday 8th Sept, the Jedburgh Club hosted 42 bowlers and members from the Tillicoultry and Devonvale Bowling Club.

The visitors arrived at 1 pm and 6 mixed rinks took the green at 2pm.

The game was played in great spirit with both teams hoping to avoid their dreaded worst rinks awards.

This acolade in the Jed Side fell to the rink skiped by Dougie Munro with Connor Hogg, Sally Munro and Tommy Hyland all acceplting their wooden spoons with grace.

When the dust settled on the green and the scores were added, it was found the score ended in a draw.

The day also ended in great spirits (namely Vodka) when after tea the evening was rounded off with a live band led by Jed member Scott Taylor and a rousing rendition of Jetharts Here led by the Jed Bowling 'choir'.

For more info on our visitors click http://www.tillicoultrybowlingclub.org.uk/


This years Ladies Championship Final will take place on Monday 9th Sept at 6pm.

The final will be contested between Margaret Gray and reigning Champion Laura Lightbody.



This years gents Championship final was played between reigning Champion Euan Lindores and 1st time finalist Robert Hogg jnr.

Both players were in great form before the final so expectations were high for a cracker.

Hogg started well and was soon 3-1 up but the Lindores soon found his range and began to take control.

With Lindores in control and the scores at 14 -5. Hogg started a come back, reducing the cap to 3 shots. The Scores then moved on to 17-14 then 19-16 befor Lindores managed to get over the line with a 2.

Robert did well in his first final and will benifit from the experience

The result also gives Lindores 2 titles in a row.

Amazingly this is the 1st stime the title has been retained since Laing Robsom did it way back in 1978/79.

Well Done Euan!!

Champion; Euan Lindores
R-Up; Robert Hogg jnr


The Gents team were knocked out of the cup by Ancrum whern they were defeated away by 17 shots.

In a game where they never really got to grips with the pace of the green the Ancrum boys proved to much and the jed bid to reach the final faultered.

This brings an end to the 2013 season for the team with a fifth place finnish an the league and a semi final finish in the league leading to a decent season for the side under the difficult circumstances.


The 2013 mixed pairs were held on Sunday 1st of September with a large entry all taking up the challenge.

In this tournament the ladies are required skip each team.

Playing in two groups, the semi finals lined up with A Dalrymple and J Jackson playing D Lightbody and B Hogg with the later claiming a 1 shot victory.

The second semi saw defending champions J Taylor and A Gilfillan sqeeze past G Somerville and M Dick.

The final was always going to be a tight affair. Taylor and Gilfillan had previously defeated Lightbody and Hogg in the group stages but thoughts of a victory were put on hold as Lightbody and Hogg raced into a 4-0 lead with only 2 ends left to play.

Taylor and Gilfillan had to hit back and they did as they claimed a 1 then a 3 to to tie the game up and take it into an extra end.

The extra end wasn't a classic but once the dust had settled it was the pair of Lightbody and Hogg who ended up the shot.

Winners; D Lightbody, B Hogg (skip)
R Up; J Taylor, A Gilfillan (skip)




This years gents championship final will be between the defending champion Euan Lindores and 1st time finalist Robert Hogg jnr.

Both came through tough semi finals with Euan defeating Greg Nagle and Robert getting the better of former 2 time winner John Taylor.

The Final will be played on Thursday 5th september at 6pm.

All welcome,

Members are reminded that there will be no other play on the green during the final.



After last weeks W/O over St Ronans BC, the Jedburgh gents faced a tough match at home to Hawick Buccleuch.

The home side got off to a flyier and neverreally looked back from there.

At the half way stage the Jed side were 31 shots to the good, a lead which they never recinded and come the last come bowl they were 28 up.

There was no top rink as both the rinks skiped by E Lindores and G Nagle were both 14 up.

This result sees the Jed side in to the semi final where they travel to local rivals Ancrum.



Rob Hogg snr claimed his first singles championship as he went on to defeat Euan Lindores in an enthroling final.

Hogg was playing in his third consecutive Laing Robson final and after tasting defeat in the previous 2 occasions, he was determind not to let this happen again.

The tournament had been played over the whole season in the past but this year it was decided to play it off in one day. This was not detrimental to the tournament has around half the membership of the club turned out for the 10 am start.

The final itself was a belter as Hogg was playing out of his skin. Lindores was having to play some great shots to stay in the match but in the 1st set with the game lying at 5 all, Hogg drew 2 great shots to claim the 1st set.

Lindores started the second set in better form, however Hogg was still peppering the white, drawing near with his 1st bowl on every end and putting Lindores under pressure from the off.

Hogg rounded off the tournament by claiming the 2nd set 7-3 to win by 2 sets to 0.

In the semi finals Hogg saw off his sister Irene Watters 2-0 while Lindores overcame Michael Weekley 2-0.

Winner; Rob Hogg snr
R-Up; Euan Lindores


The Laing Robson Tournament will be held this Sunday 25th.

All entries are requested to be at the club for 10am.

This years tournament will have a change of format. Instead of playing the best of 3 sets and the 1st to 7, it will now be over 2 sets 1st to 7 with a one extra end play off if required. At the end of every round, all the winners will be put back into the hat to be drawn for the next round. This way no one knows who they play next.

Reminder: All entries to be down for 10 am

Catering will be provided




The Gents Club Pairs was won on Saunday by the defending champions David Lightbody and Euan Lindores.

The played the vetern pair of George somerville and Ian Dick in the final and ran out convincing winners in the end.

The pair won through to the final after seeing off Darrie Scott and Jim Straker in the semi whilst Sommerville and Dick managed to defeat the current area champions of John Taylor and Greg Nagle in the other Semi.

Winners; D Lightbody, E Lindores (skip)
R-up; G Somerville ,I Dick (skip)


Although a grand opening is not planned until next year the new Clubhouse will be opening its doors to members and guests for the 1st time on Sat night (17th).

Doors open at 6pm and a hat night is planned so if you wish to play please have your names in for 6.30pm.

We look forward to seeing you there!!


Like many bowling clubs across Scotland, the Jedburgh Bowling club has signed up to take part in the Bowls Scotland £10 membership drive.

This entitles anyone to join the Club for the remainder of the season (6 weeks) for a mere £10 and this will entitle you to full access to the green and of course the brand new clubhouse as well as a loan of bowls and shoes and also four free coaching lessons.

The lessons will take place on the green on Tues 27th Aug, Thurs 29th Aug, Tues 3rd Sept and Thurs 5th Aug all starting at 6.30pm.

To take part in this scheme please follow this link Contact or pop in at the Club where we will be delighted to see you.

For more information click


With the opening of the new Clubhouse nearing (16th Aug), there are a number of tournaments and games coming up which needs the support of as many members as possible.

On tuesday the green will be closed due to the landscaping works. Re-opens 6pm

The keys to the new clubhouse will be handed over on fri 16th, we are looking for as many members as possible to come down on friday night and sat morning to help clean the interior and set it up for use. The more the merrier and we will be opening for business at 6pm on Sat night.

Names are required for the gents Club Pairs on Sun 18th Aug. Also on Sunday The Club is being featured in the National press. The Sunday Mail will do an article on our club. this is with the support of Bowls Scotland.

The Club will hold the Laing Robson tournament on Sun 25th Aug. All entries be aware that this will be a morning start with everyone to be down for 10am. If you cant play please remove names from the sheet. The format will be changed for this year with it now being played 2 sets of 7 ends with a sudden death play off if required. At the end of evey round the winners will go back into the hat to be re-drawn for the next round, much like the F.A. cups.

On Sat 31st Aug the Club will host a touring side all the way from Leicester. The 'Leicester Tourers' will arrive at 1pm with the game commencing at 2pm. 5 MIXED rinks required for this. Names to be in asap. There will be a social night in the clubhouse after the game. ALL welcome.

On Sunday 8th September another side will be visiting us. This time a team from Tillicoultry will stop off to play us. Starting times to be confirmed. 6 MIXED rinks required.

Please support these events as much as possible. This is an exciting time in the history of the club so lets make sure the new Club house opens with an bang.


Although Etrick Forrest have offically been relegated nfor a few weeks now, they turned up at Jed in a determind fachion.

The game was a lot closer that the previous encounter with the Soutars giving their all. Fortuantly the home side were in good form and managed to hold them at bay.

Team R Lindores didnt fair to well in the encounter. Playing on the favoured rink 4 the home side never found their stride and went down by 10 shots.

Dougie Munros four had a great night. With all four playing well, lead Hughie Fisher gave them a great platform whilst skip Munro was also solid. they went on to win by 13 shots.

Niki Hills squad were embroiled in a great tussle. The lead changed hads several times but come the 17th end it was the plucky Jed side that held a slender, but valuable 2 shot lead.

G Nagles four continued their fine run with a fantasic 11 shot win. THey all played well and this result helped the game stay at a comfortable state for the home side.

Team E Lindores were not quite at the races either as non of the four particulary played well. Although some miss fortune shot in their direction this wasn't really and excuse as the were defeated by 5 shots.

R Lindores 7 v 17 S Bell
D Munro 24 v 11 G Rees
N Hill 15 v 13 I Hogg
G Nagle 23 v 12 J Wilson
E Lindores 12 v 17 P Mcvie

Top Rink: H Fisher, M Weekely, S Fisher, D Munro (skip)


The Australian Pairs were held on Sin 11th Aug in the shadows of the nearly completed clubhouse.

11 pairs entered and a good days bowling was had.

The final was contested between Pat Watts and Dougie Munro against Margaret Gray and Jean Ervine.

The game was played in great spirits with all four playing well and it was the pair of Watts and Munro that went on to win the title by some 7 shots.

Winners; P Watts, D Munro

R-up; M Gray J Ervine.


The Jedburgh Club sent out a single, pair, rink and senior rink out in an atempt to qualify for this year Border Championship Finals held in Earlston on sat 24th Aug.

The Single of Euan Lindores had a good start playing Dod Smith from Newtown in his 1st game on the Greenlaw green as he went on to win the match 21-15.

In his 2nd game he didn't fair so well as he was defeated by Neil Kellit from Earlston 21-17.

The pair of David Lightbody and Dougie Munro played Earlston at Kelso and were defeated in the opening round by 14-12.

The senior rink made it to the final round of qualifying where they played Ancrum at Greenlaw. In a game they should've won when lying 2 shots up on tyhe last end, they lost a count of 4 to loose by 13-11.

The rink of Alister Law, Rob Hogg snr Jim Straker and Steven Fisher faired much better. Playing at the Gordon Club, the foursome, after recieving a bye in the 1st round, went on the beat Kelso. That victory saw them meet Ancrum in the final qualifying match.

After a disasterous start when they were 7-0 down after 4 ends, the Jed side rallied and found some good form. They clawed their way back in to the match and went on to win by 17-11.

This result means the the Jed Club has some representaion at this years finals. Well done boys.


On Sunday, with the weather being kind again, the annual 2 bowl singles tournament took place. with a decent entry all competing for the silver jack.

This is a silver plated jack that was 1st used to open the Jedburgh green when the club moved to Allars Mill way back in 1898.

The first Semi final was contested between Noxie Ervine agianst Euan Lindores. This was a straight forward game for young Lindores as he ended with a comfortable win over the steady playing Ervine,

The other Semi was a real close affair played between John Taylor and David Lightbody. The game went down the last end tied at 7 all and with Taylor only a few inches away Lightbody managed to just sneek infront of his bowl and claim the win.

The final was set up to be a cracker with both players playing in top form.

Lightbody struck first claiming 1 at the first end Lindores hit back with one of his own. Lightbody scored again, this time with a 2, before a single from Lindores made it 3-2

With the scores at 3-2, Lightbody then pushed into a 6-2 lead before Lindores scored again. Euan then pulled the mat up and caught his oponent out as the collected 2 more singles.

On the last end David was 6-5 up as Euan drew his 1st bowl within a foot. David followed that up by drawing shot within the foot. Euan then played a cracker by chapping on Davids bowl forcing it out of the head leaving himself lying game. David stepped back, composed himself and drew the shot to claim the win.

A cracking final played in great spirits and was enjoyed by the decent crowd that stayed to watch.

Winner; D Lightbody

R-Up; E Lindores


The Silver Jack, two bowl Singles competition will be held this Sunday 4th August.

Names are to be in for 12pm with the competition starting at 12.30.

Please come along and support one of the oldest tournaments in the Club.


In the 1st meeting of these two sides, Kelso gave the Jed side a lesson on how to stay focussed and secure a win. This time the Jed side decided to show what they had learned that night and put on one of their best displays of the season.

R Lindores's foursome didn't get the best of starts and were 6 shots down in the opening exchanges. Determind not to buckle, the home rink took command of the game and shot off to win by 9.

D Munro's rink has been in a purple patch of late and this game was no different as they started well even without regular 3rd David Laidlaw. Steven Fisher stepped up well from lead and gave his skip plenty of options as they run off with an 11 shot win.

Niki Hill's squad were another team slowly away but they dug deep and never let the Kelso boys dominate. With about 5 ends to go they hit the front and never looked back and ended the night 6 up.

G Nagles rink has struggled for consistancy all season but tonight the four all stuck to the task and after a really tough battle ended up with a credited 2 shot win.

Euan Lindores's team threatend to pull away from their Kelso counterparts on several occasions but the Kelso boys were having non of it. A couple of poor ends from the home rink kept the tweedsiders in it at 12-12. Some improvements came from all four of the Jed side and they went on to win by 8.

On reflection this game didn't have a lot riding on it as both team sit mid table unable to be relegated or win the league. Pride was all that was left to play for and it has been many years since the Jed boys have beaten Kelso with all five rinks up.

Top Rink: H Fisher, M Weekley, S Fisher, D Munro (skip)

R Lindores 21 v 12 S White
D Munro 23 v 12 R Paxton
N Hill 17 v 11 W Scott
G Nagle 17 v 15 D Poloczek
E Lindores 20 v 12 G frogley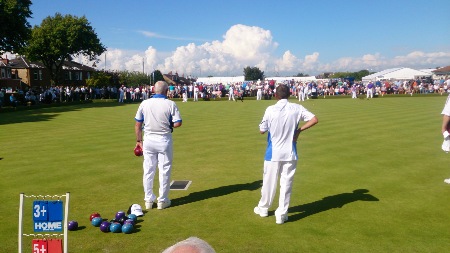 The Jedburgh pair of John Taylor and Greg Nagle made the 2hr trip through to the Northfield Bowling Club in Ayr to take part in the 2013 Championships after qualifying as the Borders representaives.

In the 1st game the Jed pair took on the Area 24 Champions Hillington Estate and after a slow start loosing 3 shots in the first two ends, the Jed two some soon found their range and shot into a 15-3 lead.

Taylors leading was inspired which gave Nagle plenty of chances to make scores, which he duely did.

A loss of two shots couldve seen the Jed pair worry but this didnt seem to faze them and Nagle played a great shot to convert the head and claim 3 more.

From there they didnt look back and went on to win by 22-9

In the 2nd game the Jed pair took on the Area 17 Champions, West Barns.

This pair were vastly experienced with both having played for Scotland.

Things didnt go to well for the Jed side with the West Barns boys playing some superb bowls.

At the half way stage, with Jed playing well enough, the score was still 9-2 down and things didn't really pick up from there as the West Barns pair went on to win by 18-6.

Overall a decent show from the Jed Pair with both of them certainly rising to the occasion.

The defeat to West Barns was no disgrace as the duo went on to win title defeating Didhope 20-7 in the Final.



This was a game that the Jed team thought they had a good chance of stealing when an under strength Waverley train game to town.

The game was nip and tuck up untill around the 14th end when the Gala men managed to pull away and secure the 2 pts, keeping themselkves in the hunt for the Div 1 title.

G Nagles rink led the Jed effort with a decent display and with the back end of J Taylor and Nagle heading to the Scottish Pairs Championships, this was a good win for them before setting off winning bu 4 shots.

Dougie Munro also led his rink well and with only a few shakes of the head and a couple of mat throwing exploits the rink pulled off a nice 1 shot win.

Things didn't go to well for team E Lindores as the back end of Lightbody and Lindores struggled for consistency. A decent performance from Ervine and C Hogg kept it close though as they went down by 2.

Niki Hills rink came up against an in form Dougie Wilson and couldn't really get themselves into the game. The Waverley vetern came up with the shots time and time again thus restricting the home rink to only 5 shots all night whilst gaining 18 of their own.

The night was summed up by team R Lindores as they kept their game fairly tight untill the last few end when at 14 all they never scored again and lost a total of 9 over the last 4 ends.

With only 3 games to go, the Jed side look almost safe from relegation. having said that 3 wins from 3 would almost gaurantee 3rd spot which would be a fantastic acheivement in the difficult circumstances

G Nagle 20 v 16 D Miller jnr
D Munro 14 v 13 B Blackwood
E Lindores 16 v 18 R Crawford
N Hill 5 v 18 D Wilson
R Lindores 14 v 23 C Elliot

Top Rink: S Fisher, I Dick, J Taylor, G Nagle (skip)



In a game that Jed had to win to stave off the fear of relegation, the home side set off with great determination and acheived the required win.

Euan Lindores's rink went into this one in great from but struggled to gain any consistant momentum. They did manage to get into the lead with three ends to go but the loss of 8 shots in the last two ends put an end to their run of 10 consecutive wins in a row.

Robbie Lindores's four started brightly enough but a loss of a bad 5 put the Abbotsford men in charge of the game to win by 9 shots.

Greg Nagles rink had been through the mill of late and and early loss of 5 shots looked like putting them back in trouble. However, some dogged determination from the Jed boys took them in to a commading lead and onto a fine 14 shot win.

Team Hill had a great tussle and in a game that was nip and tuck they managed a worthy two shot win.

Dougie Munros squad also had a fine win and with 3rd Davie Laidlaw consistantly playing well the team soared away to a fantastic 11 shot victory.

This win leaves the Jed side only 1 point from gauranteeing Div 1 Status for next year with 4 games still to go.

E Lindores 19 v 23 C Hancock
R Lindores 13 v 22 B Anderson
G Nagle 26 v 12 J Manczak
N Hill 15 v 13 G Bowers
D Munro 21 v 10 T Mann jnr

Top Rink: G somerville, G Renwick, J Taylor, G Nagle (skip)



report to follow



A win for Jed would have confirmed Div 1 status for next season however, the plucky Ancrum team came with different ideas.

The home side started well enough as they picked up shots at regular intervals.

Team R Lindores were in a tight one but but former Jed player and champion, D Oliver, managed to dig deep and end the night 5 up.

President Taylor were always hanging to the coat tails of the Ancrum team but let things slip in the last few ends to go down by 10.

Team E Lindores faired better as the skip inspired his rink to a fine 15 shot win over a strong Ancrum four.

Niki Hill also had a good night with 3rd Darrie scott and the skip playing particulary well. A 14 shot victory was the final outcome.

The big disaster of the evening was the complete colapse of team Nagle. Playing on the favoured rink 1 the team got off to a bad start and then it got worse. losses of 4s and 5s kept coming and everyone thought it would get better but it didn't. More losses of 3s and 4s came their way and the ended the evening with a record defeat of 29 shots.

With two very tough games heading our way an improvement all round is needed.

Top Rink: N Ervine, C Hogg, D LIghtbody, E Lindores (skip)

R Lindores 11 v 16 D Oliver
E Lindores 25 v 10 S Skelton
G Nagle 7 v 36 B Law
N Hill 21 v 7 G Scott
J Taylor 13 v 23 B Cowan


The annual Scott & Foggon Festival Trophy due to take place this Friday evening will now take place on this Sunday (7th) with names to be in for 12.30 aiming for a 1pm start.

The tournament will take the form of pairs or triples and will be in a round robin format and takes the place of the Open Pairs which is cancelled due to the on going club house rebuild.


Just a reminder to all members that there will be the usual Coffee Morning to be held in the Royal British Legion on Sat 6th July. with a 10 am start (or just after the cavalcade leaves for reidswire)

Please come along and support, helpers required as well as bottles cakes and raffle prizes.

thanks



Although the Jed side were missing a couple of players themselves they managed to gain a decent win over a depleted Wilton side.

After last weeks draw, a win was required to keep them in the top half of the table. Although the league title looks to be out of reach the Jed side side are looking to finnish as high up the table as possible.

Team Munro continued their run of form with a decent win of 12 shots helped mainly by fine perfomances by S Fisher, M Weakley and D Laidlaw.

Robbie Lindores men also had a great result with home debutant Kenneth Cassie playing well.

John Taylor, who was moved up to skip to cover the missing Euan Lindores, led his rink well and a storming show from lead Noxie Ervine ment that his team had a great start and helped them to 8 shot win.

Niki Hill will feal a little disapointed after a count of 5 on the second last end put his rink into the lead for the 1st time in the game. However, a loss of 4 on the last end left them with a 1 shot loss.

Team Nagles score doesnt really tell the true story after he lost a 6 on the last end. This came about by trying to play an unlikey shot after checking the team was assured the overall win. 4 missed drives from the back end left the Wilton rink with easy draws to claim themselves a decent win.

A Great result from the home side means that 2 more points in the league will leave it mathematicly impossible to be relegated thus insuring 1st Div status for the opening of the new Clubhouse.

D Munro 22 v 10 S Anderson
R Lindores 26 v 9 C McDougal
J Taylor 19 v 11 R Taylor
G Nagle 13 v 23 C Sutherland
N Hill 16 v 17 A Kyle

Top Rink; A Law, K Cassie, J Straker, R lindores (skip)


The Final qualifying day for the Scottish Bowling Championships, held in Ayr, took place on the Hawick green on Sun 23rd June with the Jedburgh Club represented by the Gents Pair of John Taylor and Greg Nagle (skip) and once again by last years qualifiers Ann Michie, Jeane Ervine, Ann gilfillan, Irene Watters (skip) in the Ladies Rinks.

Unfortunatly this year the Ladies fell short of qualification against a very strong four from the Chirnside Club losing their match by 25-3

The Gents, on the other hand, had a great result by defeating the much fancied a previous qualifiers of Neil McNally and Kenny Johnstone from the Melrose Club by 16-10.

The Jed pair got off to a fantastic start and shot into an 8-0 lead and kept going to be 12-2 up after 8 ends of play.

The Melrose men dug dep though and did manage to close the gap to 13-10.

This turned out to be as close as they got as Jed managed to see the game out to qualify for the finals.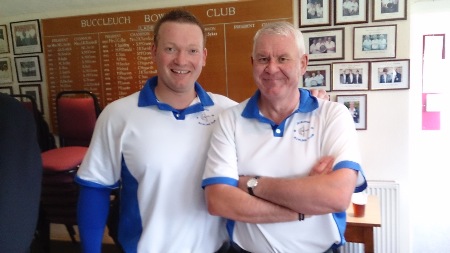 This is Gregs 2nd time at Ayr after helping the rink to the semi finals in 2011 and John, The club President's 1st time on the greens at Northfield.

They play their 1st game on Fri 26th July at 3.30pm. Anyone looking to go and stay over please ask D lightbody as beds are available. Hurry!!



Playing their 1st home game of the season the Jedburgh boys went into this one with high hopes after defeating the men from Selkirk earlier in the year.

However, draws seems to be Jeds thing this year as this turned out to be their 3rd of the season.

Team Hill were unable to repeat their form from the previous game and despite efforts went down by 10 shots

R Lindores's men had a steady game and were unlucky on the last end as only a good bowl by the Selkirk skip stopped them claiming a 6, however, a 4 shot win helped the cause.

Team Nagle, despite winning will perhaps feel it was more like a defeat as a one stage they were 15 shots up only to let it slip and ended the day with only a 2 shot win.

Dougie Munros rink was last off the green and needed two shots to claim the won for Jed. They gave their all and lay the 2 shots only for the Selkirk 3rd to spoil the party and cut them to 1, thus ending the game in a draw.

Euan Lindores's four summed up the evening with a draw but were unlucky not to have taken the win after a fortunate bowl fron the Selkirk skip stopped a home win.

N Hill 8 v 18 C McKinnon
R Lindores 15 v 11 D Macleod
G Nagle 22 v 20 S Hislop
E Lindores 16 v 16 I Borthwick
D Munro 20 v 16 S Henderson

Top Rink: No top rink as the prize was shared.



This was a game that had the potential to make or break the season with a win still keeping slim hopes of a league title alive.

Unlike previous games, the visitors came flying out of the blocks were 9 shots up after the 1st end. A lead which they never gave up.

Dougie Munro's team finally managed a win (flags oot) with a hard faught victory over the vetern Pat McNally, Dougies rink shot into a 7-0 lead but found themselves 10-9 down before turning the gas back on and ended by winning by 7.

Greg Nagles four had a shocker and struggled in all departments. To thier credit they never gave up but sadly lost by a convincing 19 shots.

Euan Lindores's squad had a steady 5 shot win over George Cessfords team with Euan inparticulary having a good game.

Niki Hill's rink had another good night at the office with his rink taking the pressure off Nagles demise with a fine display. All four playing well again saw them reach a fine 12 shot win.

The game wasnt done and dusted untill the last couple of ends and this was helped greatly by Team Robbie Lindores picking up 8 shots in the last 2 ends. This followed a steady night for the lads and helped them to win by 11 shots.

This was a great win for the Team on what was our last away match of the season.

We can now look forward to seven home games on the trot and well WHO KNOWS??

R Lindores 22 V 11 A Moffat
N HIll 25 v 13 P Scott
E Lindores 14 v 9 G Cessford
D Munro 20 v 13 P McNally
G Nagle 5 v 24 N Keller

Top Rink: D Hill, R Hogg snr, D Scott, N Hill (skip)


A sense of disapointment fell over the Jed team as they narrowly mised out on claiming thier 1st Tweedside trophy in over 40 years.

After defeating Ancrum overall the jed team needed to avoid defeat at the hands of Kelso and beat Berwick by more than 6 shots but sadly for Jed in the Kelso game they were all square going in to the last end and unfortunatly lost by 2.

In the other game the Jed side, needing to win by 6, gave themselves an uphill struggle as the fell 5 shots behind early on. They did rally but only ended up with a 3 shot win which was not enough.

Ironicly it was the Ancrum team that won the day on shots diff from Berwick with Jed in 3rd and Kelso 4th.


Senior Singles; Hughie Fisher. Lost 21-17.

Pair; John Taylor, Greg Nagle. Won 12-11

Unfortunaly Our Senior Single, Hugh Fisher was unlucky not to make it to the final qualifying day in Hawick as he lost 4 shots at 17 all to sadly miss out.

However the pair will be joining the ladies rink in Hawick on sunday 23rd after claiming a scrappy win over a Berwick pair by 12-11.

Good Luck!!


Played on a windy day and with a bit of shower dodging, the annual 2 Bowl Pairs took place within the shadows of the new Club house.

A decent turnout saw a final emerge between Ann Gilfillan and 'Podge' Somerville against Laura Lightbody and Irene Watters.

The final did see some great bowls played by all four but the winners emerged as Ann and Podge with a 5-1 win.

R-up; L Lightbody, I Watters
Winners; Ann Gilfillan, G Somerville



In a match that Jed knew they had to win and taking in the fact that Ettrick Forest have won both the two previous meetings of the Clubs, this match was vital to Jeds season.

Getting back into winning ways was vital for the Jed boys and they did so with some style.

Robbie Lindores's rink had a hard fought game and some fine front end bowling from Hughie Fisher and Michael 'Breeks' Weekley helped vetern 3rd Jim Straker and skip Robbie to a comfortable 10 shot win.

Euan Lindores's rink all played well resulting in a steady 5 shot victory.

Team Hill had the biggest win of the evening with all four playing extremly well. Dave Hill, Rob Hogg sn,r Darrie Scott and Niki were in great form and never really gave the men from Selkirk a sniff. A mighty 19 shot win giving the team a great boost.

Greg Nagle's rink struggled early on and were a 5 down at one point. They soon found some form and eventually took the lead and ending with a fine 3 shot win.

Dougie Munros invisible moustache shaking continued as he and his rink walked into yet another rink all playing well. The Ettrick boys were having a blinder and the Jed boys, not playing badly themselves, struggled to stem the flow of shots. At one stage they were 10 down but Munro and co managed to get back to within 2 shots. Unfortunatly they were unable to make it a clean sweep of wins, losing by 5.

A good win played an a nice sunny evening and even Dougie managed a smile.

N Hill 31 v 12 G Sandilands
E Lindores 18 v 12 S Bell
R Lindores 19 v 9 P Mcvie
G Nagle 18 v 15 G Rees
D Munro 12 v 17

Top Rink; D Hill, R Hogg snr, D Scott, N Hill (skip)


Note to all Gents playing the the Club Championship.

ALL 1st round ties must be played or arranged before the 14th of June or entries WILL be scratched.

Tournament Committee



This was a night to forget for the Jed team as the wheels well and truly fell off!!

The closest the Jed team got to their rivals was on the 1st end when the imediatly went 10 shots down across the baord with all rinks losing shots.

Greg Nagles rink started slowly and were soon 10- 3 down. a fight back ensued though and they went in to the last end at 17 all and onlt a great bowl by Kelso skip Ronnie Paxton condemnd the Jed boys to defeat.

With Robbie Lindores sunning himself on a beach somewhere, John Taylor stepped back up to skip. They too started slowly but did manage to pull the score back to a defeat of only 4 shots.

Niki Hills rink flew out of the blocks and raced to an 11-1 lead. However, this rink summed up a difficult night for the Jed team as they never scored again and went on to lose by 9 shots.

Team Munro suffered the worst defeat of the night when his rink walked in to a Kelso rink that had all 4 players on form. They dug in deep and not for the want of trying still fell short and lost by 14.

The only plus point this evening fell to the rink led by Euan Lindores. another decent show from their front end helped and along with a solid performance from Pup helped them to a comfortable 6 shot win.

Things will have to improve next week as a loss to Ettrick Forrest will really put the Jed team into a relegation battle however a win could see them jump up to 4th.


G Nagle 17 v 21 R Paxton
J Taylor 14 v 18 W Scott
e Lindores 19 v 13 D poloczek
N Hill 11 v 20 G Frogley
D Munro 7 v 21 S White

Top Rink: N Ervine, C Hogg, D Lightbody, E Lindores. (skip)

Jedburgh sent two rinks to Chirnside on Sinday 2nd June to the annual qualifying day for the Tweedside competition.

The two rinks consisting of Jo Lamb, Michael Weekely, John Taylor, Greg Nagle (skip)
and Ann Gilfillan, Rob Hogg snr, David Lightbody and Dougie Munro set off knowing that a Jed side hasn't qualified for the finals for over ten years and haven't won the tournament since the 1970s

This time was to be different as the Jed team picked up 6pts out of 6 winning all three games by some margin against teams from Chirnside, Coldstream and Ayton.

The Finlas will be held on the Lauder green on Sunday 16th against the other qualifiers of Ancrum, Kelso and Berwick.


Senior Singles; Hugh Fisher - Bye

Singles; D Lightbody - lost 21-11

Pair; J Taylor, G Nagle - Won 18-3

Rink S Fisher, G Somerville, D Munro, E Lindores; - Lost 17-13



Jed travelled back to Gala in boyant mood after last weeks win over Abottsford.

The Waverley has been a happy hunting green in the past for the Jed outfit but this time the Waverley boys were ready.

Greg Nagles team had a tricky night and with the front three not having the best of games, Greg often found himself under preasure and the rink eventualy went down by 9 shots.

Robbie Lindores found the going even tougher and his rink was never really at the races and went down by a dissapointing 21 shots.

Team Munro looked like they too were going to be on the end of a hiding but they managed to dig deep and after being 10 shots down came back earned a decent draw and were actually unluck not to have won thier game.

Niki Hills rink carried on their own good from with a solid 4 shot win with the skip himself playing particuarly well.

Euan Lindores's rink perhaps played the most consistant over the night helped by a solid performance at the front by Noxie Ervine and Davie Laidlaw,winning by 9 shots.

On refection the team did come back slightly but a win never looked likely.
More practice required!!!

G Nagle 13 V 22 B Blackwood
Niki 18 V 14 D Wilson
E Lindores 26 V 17 R Crawford
D Munro 17 V 17 R Nicholson
R Lindores 8 V 29 D Miller Jnr

Top Rink: N Ervine D Laidlaw, D Lightbody, E Lindores (skip)



Please note, the picnic pairs are on Sat 25th May. Have your names in by 12pm and NOT 1pm as stated on the fixture list.

Bring your Picnic


Senior singles; Hugh Fishe.r - bye

Singles; David Lightbody. won 21-1

Pairs; John Taylor, Greg Nagle - bye

Triples; Robert Hogg Snr, Jim Straker, Darrie Scott. Lost 12-9

Rink; Steven Fisher, G Somerville, Dougie Munro, E Lindores. - Bye

Senior Rink, D Anderson, Joe Lamb, David Cook, David Hill. Lost 17-7


Standings after 5 games

| | | | | | | | | |
| --- | --- | --- | --- | --- | --- | --- | --- | --- |
| | P | W | D | F | A | Diff | Pts | |
| Melrose | 5 | 5 | 0 | 415 | 339 | +76 | 10 | |
| Waverley | 5 | 4 | 0 | 407 | 321.5 | +85.5 | 8 | |
| Selkirk | 5 | 3 | 0 | 382 | 382 | +48 | 6 | |
| Jedburgh | 5 | 2 | 2 | 377 | 377 | -1 | 6 | |
| Earlston | 5 | 3 | 0 | 378 | 394 | -16 | 6 | |
| Abbotsford | 5 | 2 | 0 | 401 | 383 | +18 | 4 | |
| Wilton | 5 | 1 | 1 | 364 | 393 | -29 | 3 | |
| Ancrum | 5 | 1 | 1 | 371 | 402 | -31 | 3 | |
| Kelso | 5 | 1 | 0 | 367 | 399 | -32 | 2 | |
| Ettrick Forest | 5 | 1 | 0 | 340.5 | 459 | -118.5 | 2 | |


Hail! Hail! Jed managed a fine win in Galashiels on Wednesday night but the real winner was the weather.

Abbotsford has never been a good hunting ground in the past so the Jed team traveled to Gala with low expectaions but with high hopes with the return of some key players.

The weather played a part in the game as at times it took on biblical proportions with heavy rain and several hail storms slowing the play down.

This week Jed were a little bit slower out of the blocks but generaly the team kept the scores fairly close until opening up a 14 shot lead around the 10 end mark.

The usual large colapse accross the board once again reared its head with the team loosing 11 shots whilst only managing to score 1. This time the team dug deep and stayed in the game.


The return of Greg Nagle helped the Jed cause with Gregs team playing well and late in the game Greg himself playing some big bowls to gain single shots when lying 6 and 5 against. They went on to win the sweep, winning by 10 shots.

Robbie 'dog' Lindores seemed to have the better of the opening exchanges against the vastly expierienced Tommy Mann Jnr, however the Abbotsford rink stretched out a lead and only some determind play from the likes of Steven Fisher and the returning Robert Hogg jnr kept the score to only a loss of 4 shots.

Niki Hill's rink were going along nicely with some decent bowling on show. A steady night for the jed rink was only marred by the loss of 3 shots on the last and which tightened things up accross the board, never the less, a great win the the Jed rink.

Dougie Munro's woes continued as he was up against the dogged Brian 'spock' Anderson,who was having a blinder. The scores dont tell the whole story though as some great play by Jed 3rd John Taylor and Dougie himself kept the score to a loss of 11 as the hom rink threatened to break out.

Euan 'pup' Lindores's four seemed to be having a difficult night in what was a low scoring affair. Never being more than 3 shots down Pups rink dug deep and when trailing 10-9 they managed to score 5 shots in the last 4 ends to win by 4 shots.

Overall testing conditions were overcome (just) and an unlikely hard fought victory puts Jed in joint 3rd place in the league.


G Nagle 21 v 11 J Manczak
R Lindores 11 v 15 T Mann
E Lindores 14 v 10 C Hancock
N Hill 19 v 12 E Hancock
D Munro 12 v 23 B Anderson

Top Rink; J Straker, D Cook, G Somerville, G Nagle (skip)


This match was always going to be a toughie with the Melrose side sitting at the top of the Div and boasting numerous county players in their ranks but it was to be the Jed side that once again got of to the better start being 16 shots up at the half way piont.

D Munro's rink were on the wrong end of a 10 shot difference but the scoreline didn't really reflect his game as it was a run of loosing 9 shots in 9 ends that ultimatley proved the difference.

Pup Lindores's rink knew they were in a battle and managed to get the scores to 8-8 thansk in part to Jed 3rd D lightbodys inspired performance. This was to be in vain though as the Melrose rink pulled away to win by 8.

Robbie Lindores's rink had managed to find some form in the previous game and had a great tussle with former Scottish Pairs winner Iain Crawfords rink. The Game went all square down the 17th end but unfortunatly for Jed a loss of 1 shot proved the difference.

J Taylors rink got off to a flyer. Helped by a great performance by 3rd 'Podge' Somerville, the Jed boys opened out a 10 shot lead which looked promising to Jeds hopes. This didnt go to plan though as the Melrose rink changed up a gear or two and realed the Jed boys back in and eventually took the lead to win by 1 shot.

N Hill's game emulated J Taylors has they to got off to a promising start. Once again the Melrose rink shifted up a gear and when holding a 2 shot lead on the last end Jed managed to concede 3 to loose by 1.

Stamina and concentration seems to be a problem this season for the Jed team as we seem to start well but are falling away come to business end of the games.

More practice required??

D Munro 9 v 19 L Haldane
E Lindores 9 v 17 K Johnstone
N Hill 18 v 19 M Thin
R Lindores 14 v 15 I Crawford
J Taylor 21 v 20 N McNally

Top rink; N Ervine, D Cook, G Somerville, J Taylor (skip)



Another draw out of the jaws of victory. This one was a little tough to take as Jed looked in total control of this local derby.

The Jed boys made the short trip out the Ancrum village with a severly depleted squad, missing six regulars, yet still were confident of victory.

The game got underway and team R Lindores were in fine form with steady bowls from the front end and Jim 'laces' Straker having a great game. Lindores himself having the best of some fortunate results ment the team had a great chance with them finishing 20 up.

John Taylor playing back at skip, led his team well all night and had an excellent draw against the vastly experienced Bruce Cowan.

Pup lindores didn't fair to well this evening not helped by the a poor showing from the front three, Pup was always up against it eventually loosing by 7.

Niki Hill seemed to be cruising and on the last end was 3 shots up Then! disaster struck. A loss of 6 on the last end ment they lost by three and that left Dougie munro's rink with 5 shots to play with going into his last end.

Would you believe it!! a combination of short bowls and good Ancrum play left munro with 4 against him with Dougie having his last bowl to play.

He plays a fine draw and cuts the Ancrum score to 1 shot, however Ancrum Skip Stuart Skeldon played a superb chap and lie thus giving his team the 5 shots the needed for the Draw.

So unbelievably, two weeks running Jed managed a draw which is hard enough in its self but just like the previous week the score was 76 all.

Congratulations to Jeds Tony Turnbull for making his league debut. Well done!!

R Lindores 24 v 4 G Scott
N Hill 15 v 18 B law
D Munro 15 v 25 S Skeldon
J Taylor 12 v 12 B Cowlan
E Lindores 10 v 17 D Oliver

Top Rink; S Fisher, J Lamb, J Straker R Lindores (skip)



RINKS

As last years Borders Area champions and qualifiers the Jedburgh Ladies rink went in to the 2013 Championships with high hopes and with a slighty changed line up.

This years four of Margaret Gray, Ann Michie, Ann Gillfilan and Irene Waters (skip) started their campain off playing a strong four from the Hawick Wilton Club on the Gala Waverley green.

Jed got off to a reasonable start but the Wilton Ladies soon found some form and with only three ends to go wilton held a six shot lead.

However a decent count of four shots brought the Jed Ladies back into it and on the second last end another single shot ment that Jed was only one down.

On the last end a while lying one shot, a fine bowl from Irene ment the Jed ladies held two. The Wilton Skip unable to draw near and so Jed progressed.

In their second game of the day Jed played Melrose to see who got through to the finals day to be held in Hawick.

Playing on a very tricky rink the Jed ladies got off to a shocking start and were soon six nil down.

Fortunatly for Jed they soon picked up a gear or two and closed the gap and with a decent count of five they took the lead, a postition that they never gave up going on to win by four shots.

So for the second year running the Jedburgh Ladies Rink will play on Finals Day on the 23rd of June, this year on the Hawick green, to see who represents the Borders at Scottish Championships in Ayr.

SINGLES

The current Jedburgh Ladies Singles Champion and last years Mixed Pairs qualifier, Laura Lightbody, went into her first Scottish Championship qualify games with no expectations as having never played a Singles match outside of the Jedburgh green and the young Jedburgh Lass had potentially a baptism of fire ahead as first up she had the small matter of playing last years Borders qualifier from Melrose. on the Gala Waverley green.

Laura, un fazed by this daunting task soon got into her stride and gave as good as she got in the opening exchanges.

Gaining in confidence with every bowl, Laura got into her stide and took a comanding lead and going on to win by an amazing 21-7 sending last year champion home.

In her second round match Laura was playing the Hawick Buccleugh Champion. This game would determine whpo would go through to the semi-finals in Selkirk.

Struggling to master the rink laura found herself 4 down before scoring and a little later was 8-4 down.

Undetered, Laura once again found some form and opened out an 18-11 lead over her guttsy opponent.

Despite giving a shot away and having the gap closed to 18-16 laura managed to get over the line with a count of three and confirmimg her place in Sundays semi-finals at Selkirk where she plays former Scottish Singles Champion and British Singles finalist Maria Todd from Newtown.

On the Sunday Laura travelled to Selkirk with no real expectations but soon found some confidence once on the green winning the first 4 ends.

Todd the former Champion was not detered by this and the 'Vetern' soon found her stride with some great play.

The scores remained fairly close and Laura often out drew her opponent but in the end Todds expierience began to pay off and she played the presure bowls well with trails and chaps getting her decent scores.

Todd stretched out a lead and crossed the line winning by 21-10. A score line many thought flattered the vetern but was well deserved win.

Laura took great confidence from this run and has gained a few admirers in and around the ladies circut.



Gents are reminded that we have two games this week ahead starting on Monday night away to Ancrum.

The same team has again been selected to play at Melrose on Wednesday evening.

Please check the team sheet in the changing room or at the CO-OP for selectons as there are a few changes this week



This game was a cracker!!!

With the Jed team on its travels once again the Hawick Wilton boys, after a fine win away to Kelso last week, were keen to keep their momentum going at home.

Similar to last week the Jed boys were sluggish to start and were soon 12 shots down across the board.

This lead was cut to around 6 shots and thats were it stayed for most of the mach untill around the 13th end where Jed had a few scores around the green and managed to take a narrow lead.

Team Hill once again played well with the front end of Dave Hill and Rob Hogg snr playing particulary well, ending the day as sweep winners by 5 shots.

Greg Nagles rink which had an indifferent game were once well down then well up but ended the day 1 shot down.

Young Pup Lindores rink started off slowly and after 2 ends were 5 shots down. They managed to claw their way back into it at 5-5 only to let it slip again to 8-5. They once again clawed it back to 8-8 then once again let it slip to 12-8 this time they managed to claw it back and take the lead and only some huge bowls by the Wilton skip Andrew Kyle stoped a comfortable win by the jed boys but they did manage a 3 shot victory

The final two games left on the green were the rinks led by Dougie Munro and Robbie Lindores, both with 2 ends left to play and with Jed in front by 2 shots

Lindores was having a tricky evening and lady luck was certainly not on his side and the second last end they lost a count of three. At the same time in Munros game, while lying 1 shot, Dougie, trying to draw round a short Wilton bowl, only succeded in knocking the Wilton bowl in for 1 shot.

Things were looking desperate for Jed now and many thought it was all over, Wilton were now 2 up. Many thought lightning couldnt strke twice but it did and when team lindores were lying well, 3rd Hugh fisher managed to knock another Wilton bowl next to the white.

In the other game Jed were lying 1 shot with only the two skips having 1 bowl each left to play.

Back to team Lindores. (tense eh??) A chance, Robbie sees the opportunity to chap and lie the Wilton bowl, and with his final bowl of the evening does just that to score 4 shots.

At the same time as Dougie watched on, Wilton skip Graham Brownlee, plays a nervous bowl and as his bowl shot down the green it hits the Jack and instead of going to the large group of Jed bowls at the back to shoots sideways and sat in the middle of three Wilton bowls.

Munro gives his trademark shake of the head of dis belief and decides to fire at the cluster of bowls.

He steps up, lets fly and although being slightly off target manages to clear two of the Wilton bowls away to leave homself only 1 shot down.

Over all both teams were happy with the point in a game played in great spirits.

G Nagle 13 v 14 A Brady

N Hill 16 v 11 C MacDougall

E Lindores 17 v 14 A Kyle

D Munro 16 v 13 G Brownlee

R Lindores 14 v 24 C Sutherland

Top Rink: David Hill, Rob Hogg snr, Darrie Scott, Niki Hill (skip)


Just a reminder to all members that Subscriptions are now due before Mon 11th of May if you wish to be entered into the Club Championships.

Subscriptions remain at.

£50 for Gents (+£2 for Championship entry.)
£50 for Ladies
£50 for Seniors
£10 for Juniors
£10 for A Social Membership
A Social membership entitles you to have the full use of the Club house and any function held within but does not allow you to use the green.

Subscriptions can be paid to treasurer Steven Fisher at 36 Howden Cresent or to David Hynd in the TSB bank.

Cheques are to be made out to Jedburgh Bowling Club.


A decent show from the ladies section turned out to contest the annual Agnes Veitch pairs tournament.

Playing in a round robin format ment everybody played four games of five ends and the ladies served up some great bowling whilst having to play in some blustery conditions.

Two pairs were in contention come the final games. These were Pat Watts with Jean Ervine and Babs Hogg with Magaret Gray and after the final bowl was played both pairs entered the club house with three wins out of four games each.

With the result being decided by a shot dif count back the winners B Hogg and M Gray by a slender single shot.

R-UP; P Watts, J Ervine (skip)

Winners; B Hogg, M Gray (skip)



The new 2013 Fixtures Card are now available.

Cards may be collected from the 'Changing Room'

or is now available to by clicking here Fixtures 2013



The Gents league team managed to get the 2013 Border Bowling League off to a winning start with a steady win away to Selkirk BC.

With the team having to play all of the 1st half of the season away from home to to the construction of the new Clubhouse, the Gents are keen to aquire as many points as possible to try and secure our place in Div 1.

Played on a clear yet chilly night, the Jed boys got off to an indifferent start with the scores being close untill the half way point.

The Team then managed to pull out a 13 point lead, thanks in part to a solid performance by the rink led by Euan 'Pup' Lindores, but at one stage that lead was closed down to 8 shots.

Dougie Munro's and Robbie 'Dog' Lindores's rinks were finding the going tough but both rinks rallied slightly to close the gaps wilst Greg Nagle's rink was having a tough tussle and ended with a draw.

Niki Hill's Rink also enjoyed a steady win after tight start winning by five shots in the end.

This is a good start for the Jed boys over last years Div 2 Champions but, with all respects, tougher games lie ahead starting with Wilton away next week so improvements will have to come to secure the points

I Borthwick 8 - 24 E Lindores
C McKinnon 11 - 11 G Nagle
S Henderson 16 - 13 D Munro
S Hislop 16 - 10 R Lindores
D Macleod 13 - 18 N Hill

Top Rink: G Somerville, A Law, D Lightbody, E Lindores (skip)


The Ladies pairs will take place on Sun 5th May at 12.30pm

Pairs will be drawn out of the hat on the day and once again they will be playing for the honour of taking home the Agnes Veitch Trophy.

Any ladies interested in playing should have their names in the hat by Wed 1st May by calling Ann on 01835 864356


The annual Starrett Cup was held in the shadows of our brand new clubhouse which is begining to take shape.

This year the tournament took place as a triples format with all the triples being drawn out of the hat.

A extreamly competative days bowling took place with all triples playing three games of five ends

In the end, the eventual winners of T Hyland, J Ervine and J Straker (skip) ememerged out of the pack with a tally of two wins and a draw giving them five points in total.

Winners: T Hyland, J Ervine, J Straker (skip)


The team sheets for the league teams will be put up in the changing rooms. The gents will also have a copy posted in the Co-op.

Please keep a regular check on the sheet for the team, and travel information.


The Starrett Cup will take place this coming Sunday (28th April).

Names are to be in the hat for 12.30pm for a 1pm Start.


Calling all Jedburgh Bowlers, there will be a practice night for the Gents league team on Wed Night (24th april).

This is open to all and it is really just a bit of fun to get us back into the swing of rink play.

Anyone interested in playing on wed night should have thier names in by 6.45 so the selectors have time to sort out the teams.

There is no obligation to play in the team, this is mearly a practice session so come along!!


The Draws for the Qualifying rounds of the 2013 Bowls Scotland Championships have been made.

To view the draws all the Gents competition click here.
http://www.bowlsevents.co.uk/club.aspx?ID=3436

To view the Ladies qualifying click here.
http://www.bowlsevents.co.uk/club.aspx?ID=3483



New President John Taylor led a band of 20 brave club members in opening the green for the 2013 season.

With the weather deciding to continue on from last years dreek sodeness, President Taylor asked for a minutes silence for the passing of former President Graham Macdonald and former 2 time champion, John Gibson, who have sadly passed away over the close season.

President Taylor asked the members of the club to be patient whilst the new clubhouse is being completed and promised that when we are finally blessed with the new facility we will have a full on and exciting end to the year.

He the invited his partner, Ann, to roll the first jack of the year.

A short match was held between the presidents team and vice president but with the weather taking a turn for the worse it was decided to call a halt on proceedings, luckily for the Presidents team they held a 1 shot lead at that time so the score stood.

To view more pics from the opening day please click here Bowling Gallery


Due to the weather, the Jedbrugh Bowling Club will now be opened on Sunday the 21st April and not the 14th as first advised.

At 2pm President Taylors partner, Ann will throw the 1st Jack of the season, following this there will be the annual Presidents V Vice Presidents match.

All are welcome. names to be in by 1.45pm.

As there will no Club House, people are to meet outside the green where provitions will be made to grant access on to the hallowed turf.

The Borders Bowling Association has just went online. To keep up to date on everything from the Hamilton Trophy to the U25's as well as the Matt Purdie Trophy click the link. http://bordersba.leaguerepublic.com

Comming soon will be the new 'Link' section to the Jed BC where you will find all the local and national websites you'l ever need


The Jed BC held thier AGM on Sun 18th of March in the Royal British Legion.

Out going President thanked all the members and committee for all thier help in making his year in office a memorable one even if the weather did try to dampen things. He went on to congratulate the Ladies rink and mixed pairs for qualifying for the Scottish finals and wished the new president of John Taylor well for the forth comming season.

The 2013 John Taylor then took office and requested tha,t because of the forth coming season being somewhat of a missmash due to the new clubhouse being under construction to most of the playing season, that he would be able to fill the office for two years and that outgoing President, Rob Hogg would sit as vice president for one year and be replaced in 2014. this was aggreed.

Long Standing Treasurer, David Hynd informed to AGM that after 17 years he wished to stand down as club treasurer. David was thanked by all for his conrtibution over the years and President Taylor then proposed David, also a past president, as an honourary life member. This was aggreed. Steven fisher then took up office as Club Treaurer.

for the full list of office bearers and committee please click here Office Bearers 2013


Work is under way to build a new clubhouse at Jedburgh Bowling Club after the original 100-year-old building was demolished at the start of March.

Members of the thriving club are now hopeful that the replacement facility will be completed by the start of August.

The project has been made possible thanks to a £60,000 investment from sportscotland, £45,000 from the Jedburgh Common Good Fund, £30,000 from BCCF Environmental Group, £5,000 from Roxburgh Sports Council, and £5,000 from Scottish Borders Council's Community Grant scheme.

Once completed, the new facility will incorporate separate changing rooms, additional toilets, full kitchen facilities, and a large recreational area. The project is supported by Bowls Scotland and the club will now form part of the governing body's regional framework.

The club already has good links with Scottish Borders Council, but this project will help to further increase participation by strengthening connections with Active Schools and Sport Development teams.

Commenting on the investment from the sportscotland Sport Facilities Fund, Louise Martin, Chair of sportscotland, said:

"We are delighted to be supporting this thriving local club to build a new clubhouse, which will undoubtedly become a real asset for the whole community.

"sportscotland is committed to maximising the opportunities for people across Scotland to become involved in sport and this investment shows our commitment to help develop and support a world-class sporting system at all levels, which will inspire future generations to be the best they can be."

John Taylor, secretary of Jedburgh Bowling Club, added:

"We are absolutely delighted to have finally reached this stage, having started the process way back in April 1998. "

Without the support and assistance from sportscotland, BCCF Environmental Group, Jedburgh Common Good, and Scottish Borders Council this project could not have gone ahead.

"Credit must also go to the committee and members for all their hard work, and finally to the townsfolk of Jedburgh who regularly support our weekly lottery and fundraising events enabling us to raise sufficient funds of our own. "

Hopefully when people see the new facility they will take the opportunity to try out the sport.

The club would like to apologise to walkers for the short term inconvenience to the pathway whilst building works are in progress."