Welcome to the mens section. Here you will find information about the mens league with results & scores. Also look out for progress in the Mens Championship & Handicap competitions throughout the season!


Well unfortunately we were unable to take advantage of Hawick's last slip up against Peebles and in the end we finished second in the mens league, only losing out to both the Hawick teams. Yes we were very disappointed but at least we have been promoted back to the top division where we belong, with 9 other teams. It will be interesting to see how we cope in the 2012 season but a well deserved congrats to the league team for their hard work throughout to ensure our place in division one next year!


Wednesday 13th July 2011

After a week off with the Jethart festival, it was back to business for us on monday night and tonight. We secured victory over Newtown St. Boswells at home on Monday in very comfortable fashion and tonight was no different as we cruised to victory over Lauder at their home ground by an impressive margin, final score being 111-68. We had four rinks well up in the end and one rink finishing in a draw which is very encouraging for the next few weeks ahead.

Hawick suffered a devastating blow to their chase for the title as suprise package Peebles claimed a victory over the teries at Hawick. This result puts us in the driving seat with three games left to play, our shot difference far superior than Hawick so really only we can throw the title away now.


Wednesday 29th June 2011

What a performance away from home tonight as we simply destroyed the opposition on all rinks to win by the largest of margins against Peebles. The game got off great across the board and we simply never looked back. Although the green was very tricky, it played well at points and looked in very good condition. Top rink tonight was Dougie Munros team, winning by a massive 37-9. Special mention to Lead Steven Fisher who played a blinder all night to set up this win. The final score overall was 120-54 to Jedburgh. Congrats team great result, but we must keep this consistancy going to achieve our goal of division two champions.

| | | | | | |
| --- | --- | --- | --- | --- | --- |
| JEDBURGH | | | | | PEEBLES |
| D. MUNRO | | 37 | | 14 | S.DOUGLAS |
| G. NAGLE | | 16 | | 11 | B. AU |
| E. LINDORES | | 22 | | 9 | A. BORTHWICK |
| N. HILL | | 25 | | 7 | B. DRIVER |
| J. TAYLOR | | 20 | | 12 | B. RAWDEN |


Wednesday 22nd June 2011

The Jedburgh team achieved the double over Selkirk tonight and by doing so securing our position at the top of the table after last weeks disasterous result over Hawick. It was a very close game but we managed to scrape by in the closing ends of the game to win by the narrowest of margins. Final Score was 76-72 to Jedburgh.

| | | | | | |
| --- | --- | --- | --- | --- | --- |
| JEDBURGH | | | | | SELKIRK |
| E. LINDORES | | 15 | | 9 | I. BORTHWICK |
| G. NAGLE | | 15 | | 16 | S. HENDERSON |
| N.HILL | | 11 | | 23 | H. BELL |
| D. MUNRO | | 18 | | 12 | D. MAC LEOD |
| J. TAYLOR | | 17 | | 12 | C. MC KINNON |

Wednesday 15th June 2011

The mens team faced their toughest task of the season when they ventured over to Hawick to face nearest rivals. As expected, this was never going to be an easy game and that proving to be the case, as we were never in the lead. Hawick capitalised on our weak start and pulled away and kept control of the game throughout to win by 82-69.

It's a shame that we couldn't compete better tonight but it seemed as though we weren't getting the rubs of the green across all the rinks. We still lead the table at the half way stage with a more superior shot difference over Hawick in second, however we face some daunting trips away to likes of Lauder and Peebles respectively. If we are to keep on track for the league title we mustn't slip up and maintain some good form especially away from home!

| | | | | | |
| --- | --- | --- | --- | --- | --- |
| JEDBURGH | | | | | HAWICK |
| G. NAGLE | 13 | | | 13 | A. RENWICK |
| E. LINDORES | 15 | | | 20 | E. MCGREGOR |
| N. HILL | 17 | | | 14 | G. SCOTT |
| D. MUNRO | 16 | | | 12 | N. AMOS |
| J. TAYLOR | 8 | | | 23 | L. CLARKSON |

Sunday 12th June 2011

The District finals were held at the Melrose Green today, where the Jedburgh rink of J. Straker, R. Lindores, G. Nagle & E. Lindores looked to create club history by winning the district rinks and qualifying for the national championships in Ayr. A rink that achieved incredible results in previous weeks against the likes of Alistair White (Kelso) and George Cessford (Earlston) to be crowned the East division champions. Confidence was high within the four, but they knew they faced tough opposition from a strong Abbotsford who had clinched the West division title.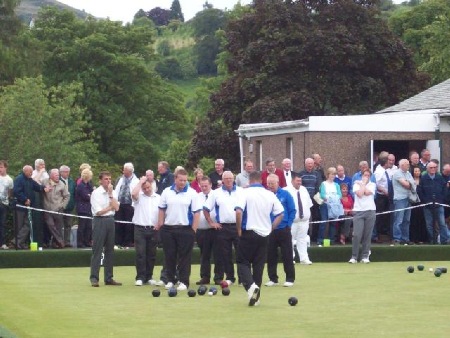 Skip Euan Lindores looks onto the head as Jedburgh got off to a shaky start, being 9-0 down after just 3 ends.

With the worst possible start, thing had to pick up and fast otherwise it could have been a cricket score. Jed did well to score their first shots and incredibly got the scores back to an even 13-13 to after 13 ends. Lead Straker had to change gameplay and he did so by decreasing the length of jack and this seemed to stumble the opposition as Jedburgh came on to a game and in outstanding fashion. Jed took the lead 16-13 after the 14th end and they never looked back....until the final end.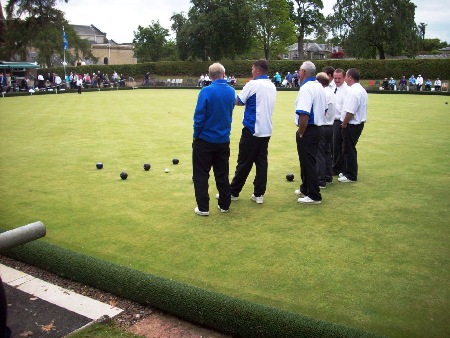 A nervous final end where the scores were 19-13 to Jedburgh and in the home straight. You couldn't see any way for Abbotsford to score a miracle.

That was until the Abbotsford skip trailed the jack to his own bowls, however he only picked up 3 shots to make the final score 19-16 to team Jedburgh!! The team were over the moon, just an amazing comeback when they looked down and out. Well deserved from the four men and I speak for all at the Jedburgh Bowling Club when i say "congratulations and the best of luck to you at Ayr, do us all proud!"


Wednesday 8th June 2011

A trip along the winding road to St. Ronans (innerleithen) was on the cards for the Jedburgh team as we looked to keep our winning streak rolling over tonight. Usually known as a tricky and very heavy green, this was not going to be an easy task, as the home side were hot on our trail in the league table. The rain persisted for most of the night which perhaps was to St. Ronans advantage as they took an early lead over the boards. However the sun crept out, and this was a game change as we took over pole position, the rink of Euan Lindores leading the charge with a big lead.

This was to be our night in the end as we went on to win by a score of 78-60. Very big boost of confidence for us in the league going into the Hawick game next week, Hawick being in second place only two points behind. We've also nearly reached the half way stage in the league and we are half the way to achieving our goal and returning to the top division!

| | | | | | | |
| --- | --- | --- | --- | --- | --- | --- |
| JEDBURGH | | | | | ST. RONANS | |
| G.NAGLE | 19 | | | 6 | J. DOUGAL | |
| J. TAYLOR | 18 | | | 12 | J. BORTHWICK | |
| D. MUNRO | 9 | | | 15 | D. PEARCE | |
| E. LINDORES | 22 | | | 11 | A. CALDWELL | |
| N. HILL | 10 | | | 11 | P. RUTHERFORD | |

Wednesday 1st June 2011


Buccleuch were the visitors on our turf tonight as we were looking to maintain our 100% record. It was never going to be easy and it proved the case as we only scraped a win in the closing stages of the game, winning by 88 shots to 72. At one stage we were quite a few shots down overall, but clearly it was very fortunate that Greg Nagles rink finished 28-7 up. we remain the only undefeated team in the league, but now teams are aiming for us and with two hard away trips to St. Ronans and Hawick in the next two week, this will make or break our season.




JEDBURGH BUCCLEUCH
E. LINDORES 15 10 J B GRAY
G. NAGLE 28 7 M. HOGARTH
J. TAYLOR 18 17 C. MILLER
R. LINDORES 13 19 K. GRAHAM
N. HILL 14 19 W. THOMSON





Wednesday 18th May 2011


A very interesting away fixture for Jedburgh as we faced a very stuffy Newtown St. Boswells team who were out on their home ground to try and proove they could compete. The game was very even during the half way mark although Euan Lindores rink were comfortably up. That proved to be very decisive in the end as Jedburgh went on to a emphatic win by 98 shots to 64. Good display on a very long green by Jed, things are looking good in the league as we remain the only team with a 100% record!




JEDBURGH NEWTOWN ST. BOSWELLS
G. NAGLE 14 11 D. REDBURN
E. LINDORES 35 8 M. MC CALL
N.HILL 18 10 J. SOMERVILLE
J. TAYLOR 16 19 G. SMITH
D. MUNRO 15 16 A. MOORE





Wednesday 11th May 2011


Another great win for Jedburgh on home turf against newly promoted Peebles. The game started off evenly across the boards but eventually Jed pulled away into a commanding lead. All rinks were victorious apart from Euan Lindores rink playing out on rink 5. Final score was 102-61 to Jedburgh. Newtown St. Boswells is the next game away, hopefully we can keep our 100% record rolling over.




JEDBURGH PEEBLES
N. HILL 14 12 B. WARNER
G. NAGLE 27 10 B. Au
D. MUNRO 20 10 A. BORTHWICK
J TAYLOR 26 10 S. DOUGLAS
E. LINDORES 15 19 B. RANDING




Wednesday 4th May 2011


SELKIRK 70 JEDBURGH 96


A great away win for the Jed team at a usually tricky Selkirk. The green played outstandingly well for this time of year which perhaps suited us. All rinks were victorious bar Dougie Munro's team, still a very good start, let's hope we can keep the momentum rolling for the visit of Peebles. Will get more stats up next week!