To mark the clubs 150th anniversary we were visited by the S.B.A. (Scottish Bowling Association) Presidents for a friendly match on the bowling green. It is was a great honour for this occasion to have taken place and we now join a very elite group of clubs in Scotland to have reached this landmark. For the record, amazingly, Jedburgh recorded the victory by a single shot 69-68. I was also informed that the S.B.A Presidents had a few internationalists playing on the day and they were believed to have played some outstanding bowls.

Top rink on the day was the team of Ronnie Kingswood (LEAD), Robert Hogg SNR. (SECOND), Davie Laidlaw(THIRD) and Darrie Scott (SKIP)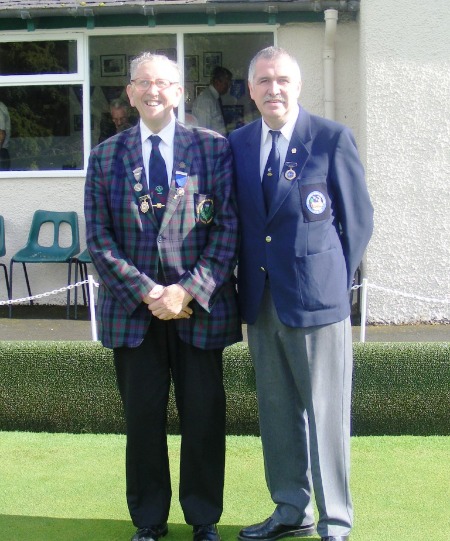 S.B.A. President and the Jedburgh President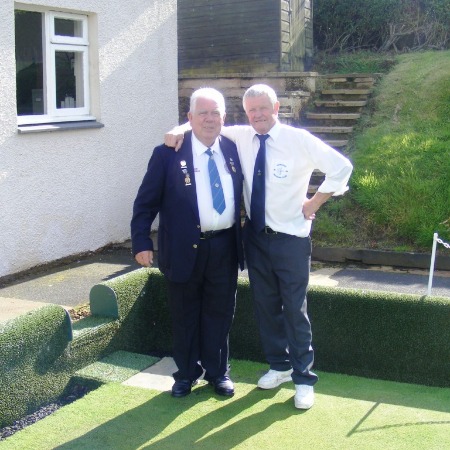 Familiar face "Tosh" Donald with Jedburgh bowler George Somerville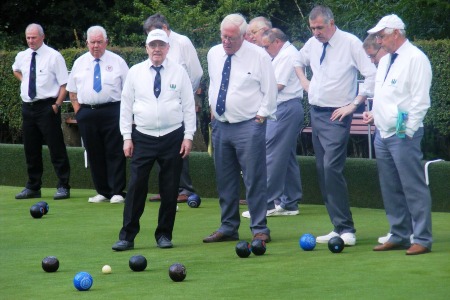 The game in progress and highly competitive


Monday 27th July 2009

It was to be an all or nothing for the Jedburgh team tonight as they were truly up against it, playing a Gala Waverley team, who on the night, could secure a win on their home ground and if arch rivals Gala Abbotsford were to lose to Hawick, they would be crowned the division 1 champions on which they have claimed many times in their long history. The away team travelled through the Gala "toon" knowing that a victory was the only result they required to keep in the title hunt. Being a green Jedburgh have not had a lot of success on, Waverley were full of confidence as they allowed the away team to wait on the green patiently for their arrival, possible mind games before the big game were in play. In a very see-saw match, nerves were showing from both sides with so much at stake, this was never going to be a one-sided game. With Jedburgh looking to celebrate the 150th anniversary style, after a very shaky start, the Jedburgh men stuck in and played out of their skins and showed true heart to claim an outstanding and arguably one of the greatest victories for a good few seasons, against Gala waverley by 86-79.

As said above, Jedburgh got of to the worst possible start with all but 1 rink conceding the shot in the 1st end. It was only to hope that this gave the team yet another wake up call and eventually thus was to be the case as steady scoring throughout resulted in the well earned victory.

Team Euan Lindores, playing furthest away from the clubhouse, were up against it on what was said to be the toughest rink to play on. Perhaps this helped the home side as to having a slight knowledge of the rink and how the hands played. This was the case in the first half of the game as skip M. Blackwood guided his rink well clear of Lindores to take a 16-4 lead after 8 ends. However the confidence of the young skip Lindores over the past league season has always seen his side playing very positively and effectively as was to be the case with Lindores claiming a 5 and a 3 shot score in two cosecutive ends to reduce the home side to a 1 shot lead of 17-16! This prooved to be the comeback Jedburgh needed and all credit to Straker, Miller, Fisher & Lindores whose good play and patience paid off. However they could not secure the victory and it was game to the home side by 23-19.

Team Robbie Lindores, top rink from the previous week, were on a high and playing some very positive bowls throughout the night which was what was needed against David Miller JNR and his rink. Things didnt look too bright to start off with as the away side conceded a 4 shot score in only the 2nd end. However with the rink playing very well as a unit, the results started to turn in favour of Lindores, who really played some incredible shots all night, and suddenly found themselves 12-7 up after 11 ends. Miller was feeling a bit under pressure at times as their was always a jethart bowl or 2 near to the jack and at times was forced to play the weighted bowls which at times did pay off but not so much in the final 4 ends as Lindores and his men scored 9 shots in total to claim an excellent 21-10 and Jedburgh top rink two weeks in a row!

Team Niki Hill, the on form rink recently, didnt get off to the dream start they have often seen this season as they were trailing Brian Blackwood and his men early doors 8-1 after 6 ends. Hill, who is always a cool character under pressure succomed to this and eventually the rink got off the marks and clawed their way back to a 10-9 lead after 11 ends. This really setup for a close finish and neither side were willing to give up the victory as the plays on the rink suggested. Blackwood looked to be staking the teams claim as they were awarded with a 4 shot score in the 12th end.....but this was to be the last reply from the home rink as steady drawing from Dalrymple & Hogg and some very accurate play from the back end combination of Lightbody & Hill ensured they kept their well earned reputation with a 18-13 victory.

Team Greg Nagle, on the back end of a convincing defeat last week, were out to make things right again. However they were up against a well experienced rink which included Dougie Wilson and Robert Crawford. Things didnt start too well as the home side claimed 3 shots in the 1st end and maybe just the thought of last weeks defeat crept into the mind and perhaps haunted Nagle a little bit. Those thoughts were very quickly shooken off as Nagles side took a 9-7 lead after 10 ends. With both sides having the share of surrounding the jack, it was to be very sure that it would not last long when the back ends played their bowls. A very even game throughout indeed, a clear winner could not be picked until the last few ends where the home rinks experience perhaps shone through and went on to claim a 20-14 win over team Nagle.

Team Dougie Munro, a rink that just plugs away every game and always finds consistency throughout, were up against the experienced skip Ralph Nicholson in what was a rematch of the earlier encounter in the season at the Jedburgh green. Munro was the only away rink to score in the first end and this was to be an omen throughout this encounter as they raced into a 10-3 lead after 10 ends. A close tussle between the front end, with Jim Wilson making his season debut at second with the ever present Steven Fisher leading the rink, was displayed throughout the game. However this was the last game left on the green as both sides watched nervously from the clubrooms. Munro & Nicholson have had some tremendous tussles in the past and this one was to live up to all expectations as both played some brilliant bowls. However, with Jedburgh being 4 shots up overall in this last end, this was to go down to the last bowl from the home side. Nicholson approached the mat knowing that Jedburgh were lying 1 shot with 3 Gala Waverley bowls lying close together at the back of the rink. Nicholson required a trail of the jack with his bowl following all the way to the back for an overall draw of the game. He was close, he trailed the jack, it was approaching to his required destination......until it hit of a Jedburgh bowl amazingly and Jedburgh received a 3 shot score and the overall victory!

An astonishing result against an ever determined Gala Waverley side looking for the title on the night. Some great results when you look at the scores across the game and it was a true credit to the Jedburgh mentality of never giving up until the last bowl is played. Gala Abbotsford recorded the win against Hawick which sets up the last week as a nail-biting finish for all 3 teams involved in the race for the title. We play Melrose away knowing that a win is required and in the hope that the Gala Waverley beat arch enemies Gala Abbotsford to secure the division 1 championship on our 150th anniversary. We must believe thats it is highly possible but concentrate only on the task at hand against Melrose! Come on men lets do this!!


Top Rink: Robert Hogg Jnr (LEAD), David Hynd (SECOND), Darrie Scott (THIRD), Robbie Lindores (SKIP)


Wednesday 22nd July 2009

A victory tonight would have left the Jed boys one step off of winning the Division 1 Title but a very impressive Gala Abbotsford stood in the way. Abbotsford themselves are going for the Title and were in no mood to roll over and they saw off the challenge of the Jed team to give them their 1st home defeat of the season.

Team Munro got off to a nightmare start loosing 6 shots in the 1st 3 ends. Munro did well to pull back and after 13 ends the game stood poised at 14 all but a fine run in gave the Abbotsford boys 7 shots without reply to give them a 21-14 win

Team E Lindores started well but a closely fought game saw the visitors catch up and ease to a 19-14 win.

Team Nagle struggles all evening on the notorious Rink 6 and found themselves down by 20-6 after 14 ends. A Few shots were clawed back in the closing stages but this was not to be enough as the went down by 21-12.

Team Hill once again proved why they are Jeds most consistant four and started brightly to move 10-3 up after 9 ends and 15-5 after 12. with the rink playing well as a unit it looked like this team could perhaps push the Jed boys on to victory but this was not to be as the Hancock boys fought back well over the closing ends to loose only by 16-12

Team R Lindores had one of their best results of their season. Up against the experienced Brian Anderson they had to fight all the way to secure the win. Loosing by 11-7 after 10 ends the Jed rink dug in to finish strongly and claim a 16-11 win claiming their 1st sweep win of the season(About time)

Final Score Jed 72 Abbotsford 84

Sadly for Jed this result leaves us needing to defeat Waverley and Melrose away from home and we also need Waverly to defeat Abbotsford on the last night of the season. All Possible so "LETS GET STUCK IN"!!!!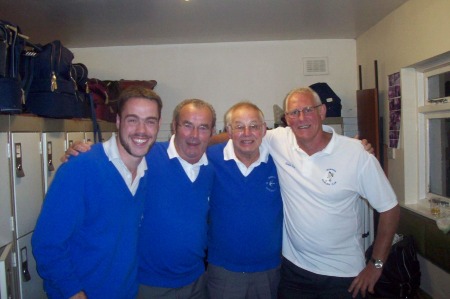 Top Rink: Robert Hogg (LEAD), Ronnie Kingswood (SECOND), Jim Straker (THIRD), Robbie Lindores (SKIP)


Wednesday 15th July 2009

To think that this was going to be a comortable night for the jed team against a gala team missing a few experienced skips was an understatement as yet another late comeback from the home side was vital as Jedburgh pulled away in the end to take a 30 shot win by 93-63 and maintain their place at top of the table with Gala looking likely to go down.

Team Scott conceded the first end having playing on a very slippery surface caused by the rain but this was to be a very close affair with both rinks having the share of the lead. However with some brilliant bowls being played in the closing stages it was Scotts rink that pulled away to record an excellent 17-9 win.

Team Nagle pulled off a comeback to remember in their game as this probably urged the team on all across the board. Playing on the tricky rink 5 it was the away side that got of to a dream start being 15-4 up after just 10 ends. However Nagle pulled off some of his trademark weighted shots late on to score in all of the last four ends andpull off a 20-17 deserved victory.

Team Lindores once again found their top form from earlier in the season to once again become top rink on the night. Although against the experienced Les Thin, Euan and his troops battled through and went into a deserved 15-7 lead after 10 ends. With all the play working well in their favour they capitalized extremely well and never looked back claiming a great win by 24-9.

Team Munro amazingly drew the dreaded rink 6 yet again which was maybe a blessing in disguise they adjusted to the tricky rink as did the opposition. Always a very tight one to call throughout, both sides played some great bowls on the night and was to no surprise that the scores were level at 8-8 after 10 ends. With Third Taylor finding form in the latter stages and munro securing shots with some fine draws, Munro kept his cool and went on to win by 16-13.

Team Hill being our saviour on so mny occasions recently, on this night they took a back step but yet played some great bowls yet again and are really functioning so well as a team. Although this was the case, they were actually always down all game until the very last end where they claimed a valuable 4 shots to win their game by 16-15!

After an early scare, it took jed until about the 12th end to realise that they can't give up their position at top especially with this being the 150th anniversary. With 2 of the toughest games coming up against 2nd and 3rd opposition we must win both games to guarantee us league champions with a game to spare against Melrose. lets do this men, we know we can!



| | | | | |
| --- | --- | --- | --- | --- |
| D. Scott | 17 | | M. Blyth | 9 |
| N. Hill | 16 | | R. Fulton | 15 |
| E. Lindores | 24 | | L. Thin | 9 |
| D. Munro | 16 | | J. Dickson | 13 |
| G. Nagle | 20 | | D. Pearce | 17 |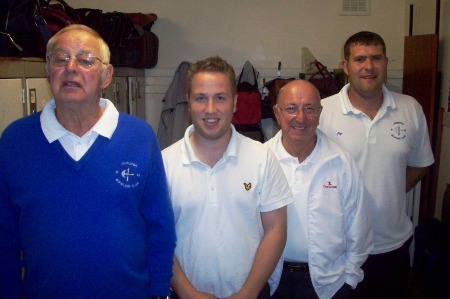 Top Rink: Jim Straker (LEAD), Ryan Miller (SECOND), Hughie Fisher (THIRD), Euan Lindores (SKIP)

Come rain, Come shine, Jed adjust to the conditions!

Wednesday 1st July 2009

After a true heatwave during the day, there was promise of a lovely night for the bowling at Jedburgh tonight as they played against close rivals Kelso in what was a must win game to keep the border league title hopes alive!.....But maybe this game wasn't going to get played on this night as sudden rumblings of thunder followed by a 10minute heavy downpour had flooded the surface of the green. Only due to the rain stopping, dedicated members of the club decided to risk it and get the rain swept of the green so that this match could be played!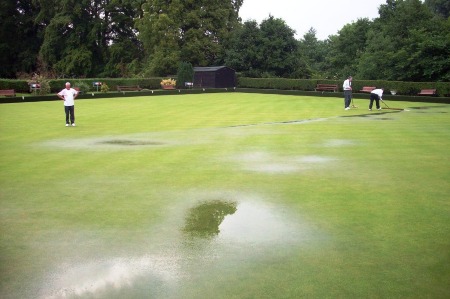 Amazing work by the guys got the green surface clear of water!

With the game being delayed half an hour, play finally got underway and it was the away side that got off to the best start 3 out of 5 of their rinks scoring in the first end. However this was always going to be a close game and the game was always very close throughout with neither sides looking like crumbling at the finishing post. However, with sheer determination and crucial finishing, it was the home side that went on yet again to claim the win and keep the 100% home record very much alive beating Kelso by 83-76.

Team Nagle were very much up for this game as was away skip Bob Purdie and his men and it was to no surprise the scores were level at 9-9 after 10 ends. However with Jed at this point needing a rink to pull some shots off, who better than Nagles rink to do this, claiming all ends until the last and even remarkably pulling of a huge 7 shots in the 14th end and going on to win this encounter 24-10.

Team Euan Lindores, however, weren't so fortunate on this night as they were always going to be up against it against Borders skip Stuart white. Usually playing so consistantly well, it was a huge shock around the club that Lindores was fighting a battle being 2-16 down after just 9 ends. This wasn't helping situations across the board and a fightback of some sort was needed greatly. Lindores kept popping on slowly, just enough to keep Jed in the lead overall when it came to the last, Jed were 14 up so the game was won by now but white and his team had the last word and picked up another incredible 7 shots and the honours of Kelso top rink winning by 12-28.

Team Munro had picked out the famous rink 6 against the truly class bowler Allistair White and this was going to be a cracker. Munro pushed on the pressure early on to claim a 10-5 lead after 9 ends but never count White out and with some nice drawing play from both front ends, the game got to 15-12 after 16 ends. However this was to be Munros night and his men picked up a 2 in the last to claim an excellent victory by 17-12.

Team Scott were frustrated all night against Ronnie Paxton and his rink as this was closer than the scores reflect. With Scott taking a 6-4 lead after 8 ends perhaps this could of been a tight affair but Paxton had other ideas. Playing some brilliant drawing shots in the latter stages, Kelso never really looked back and Scott and his men could only pray that other rinks done them a favour and pulled the scores back. Final score was 7-22 to the away side.

Team Hill are playing increasingly better every week and are really functioning well as a rink but they were really up against it in the form of Dennis Poloczek. However they decided that tonight was going to be once again their night as they stormed into 13-2 lead after 11 ends which was much needed overall. With the front end of Andrew Dalrymple and Rob Hogg never far away, The back end of David Lightbody and Niki Hill backed them up with some brilliant draws and weighted shots when required to win their match by 23-4 and ultimately win the game for Jedburgh....well done team, keep it up! :D

Well it was a much needed win to sustain our place at the top but all credit to Kelso who at one point looked to have the game wrapped up. The green did play well considering the heavy downpour it received and maybe this helped the away side a bit more. Let's keep it up after the festival as we are on the road to a hungry Hawick side!



| | | | | |
| --- | --- | --- | --- | --- |
| G. Nagle | 24 | | R. Purdie | 10 |
| E. Lindores | 12 | | S. White | 28 |
| D. Scott | 7 | | R. Paxton | 22 |
| D. Munro | 17 | | A. White | 12 |
| N. Hill | 23 | | D. Poloczek | 4 |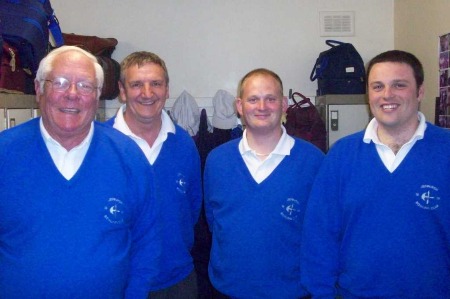 Top Rink: Andrew Dalrymple (LEAD), Rob Hogg (SECOND), David Lightbody (THIRD), Niki Hill (SKIP


Sunday 28th June 2009

in one of the more popular tournaments, the Australian pairs was played on Sunday with a good entry allowing for three groups of 4 pairs playing. The format of this tournament is that the leads plays his 2 bowls first and then the skip comes up and plays his 2 bowls, then the lead plays his remaining 2 bowls and finally the skip finishes of the end with his last 2 bowls. This always ensures for some interesting plays going on throughout games with each player being allowed to play diferent types of shots!

As the rain managed to stay away for a change, the weather was starting to heat up as was the group stages with alot of close positions and alot of good ties being played. A winner from each group plus the best overall runner-up would then go on to the semi-finals.

Eventually the stage was all set for the final which involved the pair of David Hynd & David Robertson against the pair of James Hogg & Euan Lindores. On paper this had the making of a cracker of a final with both teams playing very well throughout the groups and semis. However, it looked like Hogg and Lindores had kept their momentum from previous games and really impressed in the final amazingly going 16-0 up after 6 ends and it was game over an end early. All credit to both teams for making the final and it was a shame the final wasn't a close one.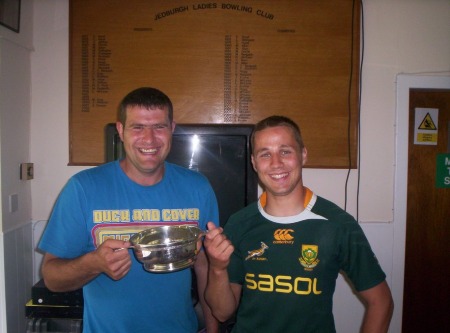 Australian Pairs Winners: Euan Lindores (SKIP), James Hogg (LEAD)


Saturday 20th June 2009

An excellently ran tournament was played on Saturday as it was the Kerr Memorial Pro-Am rinks tournament which always brings great crowds down to the bowling club. It's a chance for two bowlers to bring along two non-bowlers to try the game perhaps for the first time, or a yearly regular which is always encouraging! The was enjoyed by all and some great bowls were played as the alcohol went down a treat on this fun day. The weather held up most of the day and the sun was clearly shining down upon the eventual winning rink of the ex-callants skipped by Niki Hill who, in the end defeated Jim Straker and his rink to claim the title. A special thank you has to go to Norman Kerr for bringing this great fun tournament to the club in memory of his father the late adam kerr and donating the cup.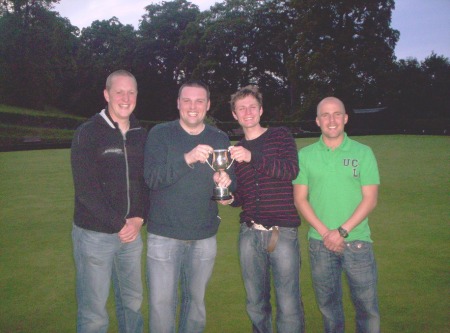 Kerr Pro-Am 2009 winners: Craig Smail (THIRD), Niki Hill (SKIP), Clark Scott (SECOND), Adam Lees (LEAD)


Tuesday 23rd June 2009

Hiya folks, just a quick message to inform you all that i am unable to add all the previous reports since early May. As i was aware of an upgrade of this site, i only found out that the company i am with decided on doing this about 3 weeks after i sent in the request and took me by surprise. Even though this has occured, i promise to bring alot more to the website and keep it running smoothly. Thanks very much :D


Wednesday 17th June 2009

It was the turn of Melrose to come down to Jedburgh on what looked to be a very nice night for bowling indeed. With Jed needing a win to keep the pressure on both Waverley & Kelso, this was never going to be easy against a Melrose side, whom for the first time in a long time, were fighting a relegation battle near the bottom. With Jed not keen on letting the top two get out of their site, we fought back from yet another comeback to secure a valuable home victory by 84-79.

The past few games have seen us unable to score in the 1st end but this was not the case this time as all but 1 rink scored in the 1st end.

Team Euan Lindores were up against the ever present melrosian Bill Swanston Snr. and this could be described as a very frustating night for the young skip and his team. You could say Lindores men were always in control throughout....until Swanston went onto the mat. At time the home side were lying well with fours and fives until Swanston playing some truly remarkable bowls to either cut down the count or even draw the shot himself which was incredible to watch. Although this was the case, Euan and his rink kept their heads up and kept playing steady bowls to go 14-7 up after 11 ends. Lindores really pushed the pace after this and managed to secure a brilliant 18-14 victory. One has to think what the final score would have been if Swanston wasn't playing?

Team Dougie Munro drew out the dreaded rink 6 against Mick Patterson which was always going to be an old grudge match going back to Munros time at Melrose. As usual the rink always produces close games as both sides had their share of the fortune on the rink and it was to no surprise that the scores were level at 10-10 after 11 ends. However Munro played some desperate shots when the opposition were lying very well and picked up two fours and a three to claim a well deserved 21-15 win.

Team Nagle, whom were the youngest rink for the home side on the night were up against former Scottish National Pairs Champion Ian Crawford so this wasn't going to be an easy game. The only rink not to score in the 1st end, you had to wonder if this was going to be an omen & it appeared so with Nagle going 5-18 down after 13 ends. At this point the game was won on this rink for the opposition but the home rink had to shut off from this and try get some shots back for overall scores. Being the last rink on the green and 6 and four shots up overall it was vital that Jed secured shot in the last end. The older & much more experienced head in the rink Ian Dick played 2 remarkable bowls to lie the shot and his bowl stayed there to secure the overall win for Jedburgh. Final score here was 7-22.

Team Robbie Lindores were up against Billy Swanston Jnr. on a tricky rink described by both teams as it was a struggle to keep a good head going throughout. Was to no surprise that the scores were even at 8-8 after 9 ends. Swanstons men managed to play a few great bowls and could say they never really looked back as they went on to secure a 12-21 win. Not much can be said, it was never going to be easy for team Lindores.

Team Niki Hill and his men are playing consistantly well last night and to be fair, if it wasn't for them, we wouldn't have won tonight. With the front end of Andrew Dalrymple & Rob Hogg Snr. drawing so well, the back end rarely went up to the mat with the shot against and this help alot. Borders player Neil Mc Nally always prooves to be tough competition for any team but somehow he didnt seem to get going until late on in the game. Hill cruised into a 16-1 lead after 10 ends and at this point we were looking very good for the win overall. However, things werent looking suddenly so good as mcNally picked up a 2 and a 4 in the next 2 ends and suddenly the home side were bamboozled! Could this be the turning point in the game?.........No. Hill and the rink done incredibly well to lift themselves back up and in the end secured a comprehensive 26-7 win and claim the sweep to be hot on Team Euan Lindores trail for 2009 top rink.

A brilliant win for Jedburgh. Melrose always proove to be tough opposition no matter what position they are in the league. It is crucial we keep this up as teams below are starting to play well.



| | | | | |
| --- | --- | --- | --- | --- |
| N. HILL | 26 | | N. McNALLY | 7 |
| E.LINDORES | 18 | | B. SWANSTON SNR. | 14 |
| D. MUNRO | 21 | | M. PATTERSON | 15 |
| G. NAGLE | 7 | | I. CRAWFORD | 22 |
| R. LINDORES | 7 | | B. SWANSTON JNR. | 12 |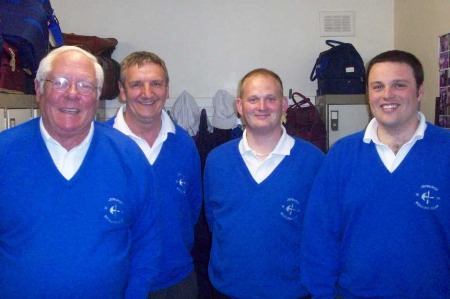 Top Rink: Andrew Dalrymple (LEAD), Rob Hogg Snr. (SECOND), David Lightbody (THIRD), Niki Hill (SKIP)

Saturday 23rd of May 2009



The 3-2-1 tournament took place at the bowling club early Saturday morning and lasted all the way through the day until 7pm at night. Being the popular tournament that it is, this competition was played in great conditions and there was great bowling achieved by all involved. The rules of the tournament are that a team of 3 bowlers enter, firstly playing in a triple match together and then splitting up the 3 to form a pair with the remaining bowler playing the singles match. There are 3 groups of 5 teams involved and the 2 finalists are determined on total points scored then the best shots scored. It was always going to be interesting as to who could keep performing consistently throughout the day.


With the triples competition being close throughout, in the end overall it was the team of Andrew Dalrymple, Niki Hill & John Taylor that finished best overall triple by four shots over the team of David Lightbody, Robert Hogg Jnr & Ryan Miller. Both teams seemed to have some very close games with team Miller being level with the opposition going into the last end in all 3 games!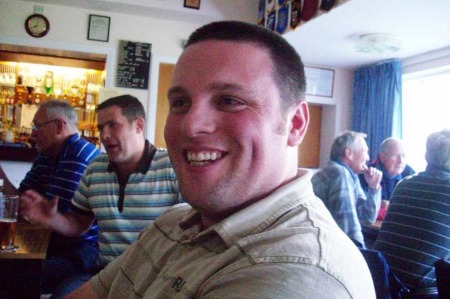 Top triple team member Niki Hill




The pairs were always going to be tough with some interesting ties being played. In the end, the best overall pair on the day was Graeme Renwick & Robbie Lindores with 3 wins out of 3.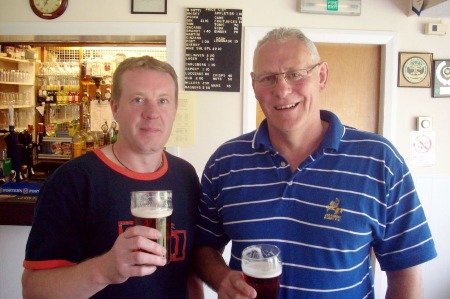 Impressive throughout, Graeme Renwick & Robbie Lindores take top pair



The singles being played over 10 ends looked to have top quality bowlers involved and it was to no surprise that the top singles player went to Jedburgh league lead Steven Fisher. Steven played consistently all day and played some huge bowls to secure his teams place in the final against the statistically best overall team of Andew Dalrymple, Niki Hill & John Taylor.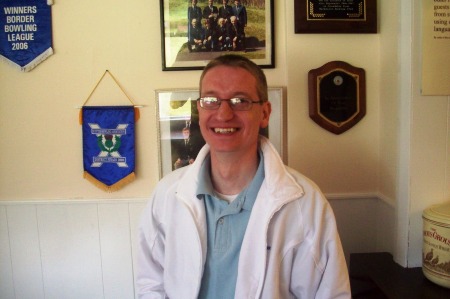 showing great form on the day, Steven Fisher took top singles player

The stage was set, the sun was beating down on the Jedburgh green & the crowd were ready for what was going to be a very even and entertaining final. The triples game was showing no signs of a clear winner in the early stages.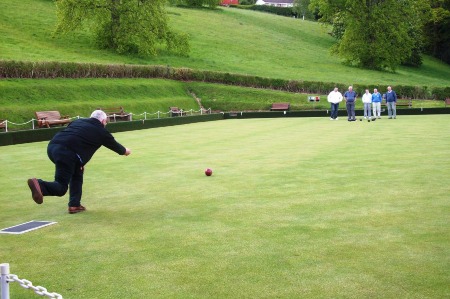 Skip John Taylor up & attacking against the opposition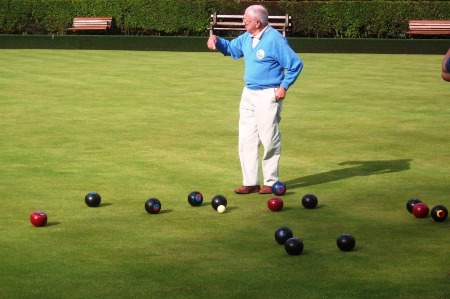 1 down is the call from Hughie Fisher in the closing stages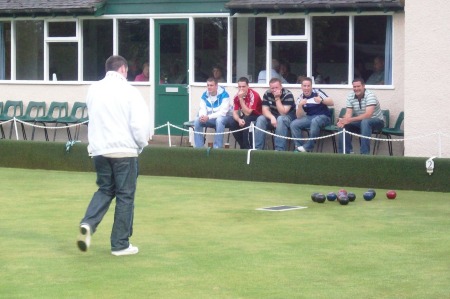 The crowd watch on as Niki Hill is about to play



In the end it was team Fisher that took the lead, making it 1-0 in the series and securing a huge advantage going into the final two games of the day. With the pairs & the singles both taking place at the same time, it was never going to be easy for the teams to maintain concentration on their respective games.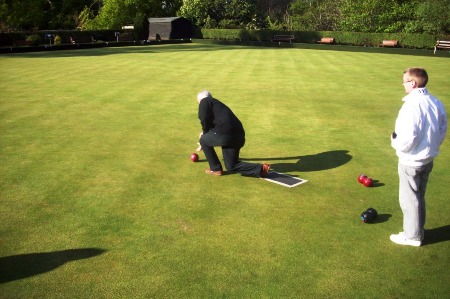 John Taylor drawing very well in the singles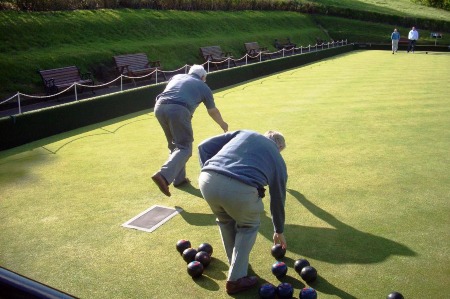 The pairs enjoying a good, close game on rink 1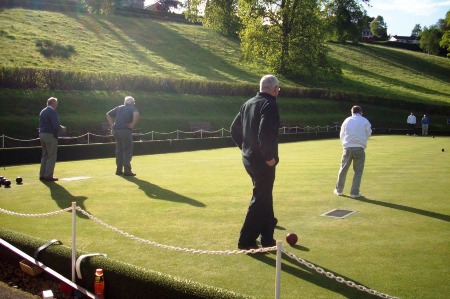 Both games in the closing stages & team Fisher in control




Although it was a very close and even final, in the end it was the team of Ian Yule, Hughie Fisher and Steven Fisher that took the win in a clean sweep of 3-0 in the final. A very highly rated tournament with plenty bowling involved was enjoyed by all on the day.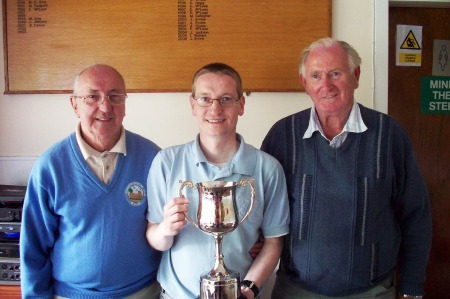 3-2-1 winners 2009: Hughie Fisher (SECOND), Steven Fisher (SKIP) & Ian Yule (LEAD)


Thursday 21st May 2009


The mens championship prelims were played with some interesting opening ties being played on the green. The results were as followed:

Graeme Renwick def. Dave Cook 21-13
Robert Hogg Jnr. def. Andrew Dalrymple 21-10
Robbie Lindores def. Ivor Hughes 21-20
Ryan Miller def. Gary Pringle 21-17
Hughie Fisher def. David Hynd 21-7
Jim Straker def. Ian Dick 21-18
Wednesday 20th May 2009


Jedburgh made a good start to the bowling league with 2 wins out of 2 in their league campaign. The Jedburgh teams confidence was sky high going into the local derby with Hawick. A dry day setup good bowling conditions for this game and with scores being nip & tuck all game, it was the sheer determination of the Jed boys that seen them comeback from behind again to claim a valuable win and keep their 100% winning record going.


In the early stages of the match it was very even scoring by both teams, although team Niki Hill made a great start scoring 7 out of 8 ends against the great Norrie Amos and his team to take a 13-1 lead after 8 ends. This looked to wake up the opposition and they started to slowly crawl back up the scoreboard, with Amos playing some great shots when needed. Hill and his men did enough after the 17 ends to keep a respectable 19-11 win and claim the Jedburgh top rink.


Team Lindores, however, were in deep water for most of the game. Being 16-5 down after just 9 ends, there was trouble at mill. it was always going to be tough to come back from the deficit. The Hawick front end were drawing well and adjusting to the weight which didn't help matters. Skip Robbie Lindores played some very big bowls to prevent big counts at times which, in the end, became vital in the final score. Team Lindores kept their heads up and managed to keep the score at 13-22.


The rink skipped by Greg Nagle were up against Les Clarkson and his men in what looked like an even contest. With mostly single shots being scored, the scores were even at 13-13 after 14 ends which would setup and interesting finish. With Jedburgh needing shots at this point, great front end drawing and big back end shots were played and it was Nagles team that grabbed the win deservedly by 16-13.


Team Euan Lindores had the toughest task of all by playing on rink 6 and it prooved the case also for the opposition. As the sides could not be seperated with some good bowls being produced, a draw at 12-12 was the fairest result. As this game was going on, there was a lot of supportive shouting from both the teams and this seemed to add alot more determination to snatch the win, especially from Jedburgh.


Being last team on the green and being 5 shots up with 1 end to go, Team Dougie Munro still felt that more shots were required. They played well all night and had a share of some outstanding bowls against Martin Chrystie and his team. Alot of weighted shots were played by the 2 skips and some excellent results came out of them. Although it was a good effort, Munro conceded 1 shot in the last end but won their game 18-16.
Excellent home win against a hungry Hawick team. It was left late again to secure the win though. We need to keep this consistency especially as we have two away games in a row next against Gala & Gala Abbotsford.




D.MUNRO 18 M.CHRYSTIE 16
N. HILL 19 N. AMOS 11
G. NAGLE 16 L. CLARKSON 13
R.LINDORES 13 G. SCOTT 22
E. LINDORES 12 E. McGREGOR 12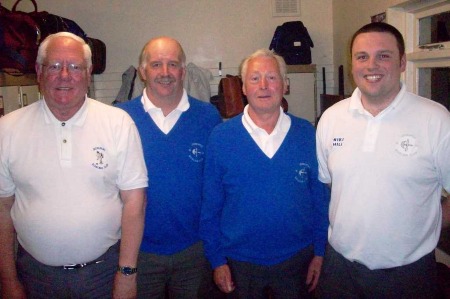 Top Rink: Andrew Dalrymple (LEAD), Allister Law (SECOND), Darrie Scott (THIRD), Niki Hill (SKIP)