The club will be hosting the Gents Championship Final on Sat 20th at 6 pm followed by a title party for all club members.

All welcome.



Jed traveled to Hawick Wilton knowing a win would give them the title no matter of results else where, although the title could still be theirs if other results went their way.

As it turned out other results didn't do their way and a win was needed and that what they got, (just).

Unlike last week, a positive start from the Jed men saw them race into a 8 shot lead after 2 ends with great starts from Lindores and Taylor helping things along.

Wilton did recover and with Munro, Hill and Nagle in dog fights and Lindores and Taylor being reeled, in the Wilton boys took the lead.

Nerves were being shredded by the shot but a big 6 followed by a 5 by team Nagle turned things again. Lindores started scoring again, Munro clawed things back. Hill hung on and Taylor kept things tight.

With the scores close, Lindores lost a 4 and Hill a 3 on the second last end which looked liked ending things for Jed but Skip Taylor played a wonder bowl to trail the jack into the ditch for , a 5 shot turn around and this gave the Jed men belief.

The last end saw Nagle gain a 3, Lindores a 2 but Taylor lost 1 and Hill 2 meant Jed were 3 up with 1 Wilton Bowl to come.

A Trail of the jack would've given Wilton a 5 and the match. However the yung skip was a fraction tight and he caught a short bowl giving Munro 1 shot and securing the 2016 Border Bowling League Title. A 5th title overall and the 1st in 10 years.

Well done lads. A great end to a long hard season!

C Macdougall 14 - 21 G Nagle
A Waugh 13 - 14 J Taylor
A Brady 17 - 22 E Lindores
D Smyth 14 - 14 D Munro
A Kyle 19 - 10 N Hill

Top Rink: B Gray, B Liddle, R Hogg jnr, G Nagle


The Jedburgh Ladies have reached the semi finals of the first ever top 6 series having defeated Kelso by 4-2 and receiving walkover over Earlston.

Wins in the pairs by Hogg and Lightbody and the Triples by Ervine, Gray and Watters was enough to see them over the line.

Semi final is on 18th Aug. opponent yet to be confirmed.



The Jed gents had an opportunity to win the league for the first time since 2006 as a win against Hawick would've all but secure the Championship.

A slow and nervy start was not what the home side wanted and early on the went 15 shots down.

The usual Jed comeback ensued but every time Jed pulled it back to level the Hawick men would pull away again.

A nervy last end did give Jed a chance with a count of 2 by team Nagle and a 3 from Munros quartet put Jed level on the score board. Jed were holding 3 shots on the last game left on the green with team Taylor but Hawick skip Clarkson wicked in for shot and Jed could only manage to knock another short Hawick bowl up up when trying to chap the shot out of the head.

A disappointing night but it is still in Jeds hands a a win away to Wilton on the last night of the season should be enough to see the men in blue to the title.


G Nagle 17 - 16 N Amos
D Munro 19 - 15 W Anderson
J Taylor 16 - 14 L Clarkson
N Hill 16 -20 E McGregor
E Lindores 16 -21 S Clarkson

Top rink; M Weekley, D Laidlaw, M Nicoll, D Munro (skip)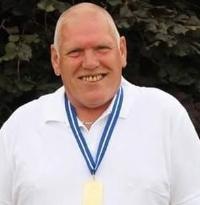 Jedburghs Mike Nicoll was invited to take part the the Disability Scotland Bowing championships at Northfield in Ayr and came away with the gold medal.

Well done Mike who faced Scottish Internationalists on his way to the final and now hopes to make Team Scotland himself for the Home nations game v Wales next year as well as the next Commonwealth Games in 2018.

Full Report.

A significant development in Para-bowls has been the inclusion of a series of national competitions within the mainstream championships organised by Bowls Scotland at Northfield, Ayr. The event is coordinated over a weekend by Scottish Disability Sport (SDS) and the leading male and female Scottish players in the B6, B7 and B8 classes are invited to compete in their respective sections.Recent initiatives by SDS and partners have led to an increase in physically disabled players with performance potential in Scotland and a number of the newcomers made their mark at Ayr.

This was year two of the event and Disability Sport Fife (DSF) was well represented once again, although world champion Martin Hunter from Burntisland had to call off through injury. Martin's international team mate and defending champion Michael Simpson from Auchtermuchty and Strathmiglo Bowling Clubl had another fine tournament in the B7/B8 class, losing narrowly in the semi final 20-21 to Ian Brown from Kilbirnie.

Two DSF members, international Barbara McMillan from Cowdenbeath Bowling Clubt and newcomer Mary Wilson from Edinburgh, contested the ladies open semi final with Mary winning through to the final 19-18. In the final she met experienced bowler Tracy Black from Alloa who was also making her first appearance in a major Para–bowls competition. Mary clearly has a future in Para-bowls but on this occasion she found her Central Scotland opponent just too strong.

Scottish international Billy Allan from Cowdenbeath has a fine home record in major competitions and once again he reached a B6 final. On this occasion he came up against new find Mike Nichol from Jedburgh who played an impressive semi final tie against international Gary Clelland. Billy had to settle for an excellent silver medal performance when he went down 12-21 to his Borders opponent in the B6 final. Bowlers in the B6 section are more physically restricted by their impairment than those in the B7/B8 section.

There is no doubt that the quality of physically disabled bowler contesting all of the three sections at Northfield has risen dramatically in one year. This is great news as Scotland prepares for the Gold Coast 2018 Commonwealth Games, the Home Nations in 2017 in Wales and the next IBD World Championships.


The Australian Pairs will take place on Sunday 7th Aug.

Names to be in for 12.30pm and pairs will be drawn from the hat.

Round Robin format.



If Last weeks game was a cracker, this weeks was an epic!!!

Abbotsford, sitting in 2nd place, needed to beat Jed by 7 shots to overtake them at the top of the league and with 11ends gone they were looking good to do that as they were 25 shots to the good.

Jed though, were down but not out, and in one of the clubs best ever come backs they took the lead with the last play of the game to win by 3.

Good performances by team Taylor and good fight backs from Nagle and Hill saw the game on an knife edge.

Team Munro suddenly out of nowhere lost a 6 on the 3rd last end after a great bowl from the abbotsford skip. On the very next end though a great shot by jed 3rd Mike Nicoll and two good draws by Munro saw them claim back 5 of the 6 they had lost.
On the last end with Jed two shots up overall Munro faced 4 against and with 1 bowl left he chose to fire and he clipped 2 shots out to loose a 2 thus leaving the match all square.

Whilst this was going team Lindores had played their way back into their game and two cracking draws by Lindores and one by Hugh Fisher saw the visitors lying 3 shots.

The home skip had one bowl left and although he played a nice shot it just fell short and Jed Claimed 3 to win the match.

A Massive win and one that sets up an opportunity to lift the title next week at home against Hawick.

G Bowers 15 - 17 N Hill
K Campbell 17 - 19 E Lindores
T Mann 11 - 14 J Taylor
C Hancock 15 - 15 G Nagle
S Thomson 20 - 16 D Munro

Top Rink, S Fisher, T Turnbull, G Robson, J Taylor (skip)


A Must win game for both teams saw a cracker of a match take place on the Jedburgh green.

With Melrose sitting in second place, a win for the visitors would hall them into contention to retain their title but a win for the home side would keep them at the top clear of the chasing pack.

Things didn't look good for the home team as after 10 ends played they were 15 shots down across the board.

Within seconds though the game turned as Niki Hill drew shot with his last bowl when 5 against and at the same time Greg Nagle took a bowl Melrose bowl out for a 6.

This seemed to kick start the home team and within 4 ends they had taken the lead and moved off to win by 9.

A great team performance keeps Jed at the the top still only by 2 shots as Abbotsford moved into 2nd place


G Nagle 31 - 10 R Nichol
N Hill 18 - 12 L Haldane
E Lindores 15 - 15 K Johnstone
J Taylor 10 - 19 N McNally
D Munro 10 - 19 I Crawford

Top Rink: B Gray, C Hogg, R Hogg jnr, G Nagle (skip)



With the League now split the Jed boys traveled to the Waverley club looking to extend their lead at the top of the division.

A Good start by the visitors was soon halted when a passing shower moved away and the home side took control of the game.

Good wins by teams Munro and Taylor were not enough to help the team as Nagle and Lindores struggled to make an impact and the side went down by 7 shots

Jed did manage to stay at the top of the division though as rivals Melrose, were also defeated.

R Nicholson 10 - 18 D Munro
D Wilson 9 - 14 J Taylor
D Miller 21 - 13 E Lindores
C Thorburn 19 - 10 N Hill
R Thorburn 23 - 10 G Nagle

Top Rink: M weekely, D Laidlaw, M Nicoll, D Munro



Traveling to the current champions and league leaders Melrose, the Jed gents had a point to prove and knew if they had any ambitions for the title this year a win would go along way towards it.

A slow start again didn't help but after a few ends the team settled into the quicker paced green and soon caught up.

A great team performance saw them go 5 up with only 2 ends to go but a Melrose fight back saw it go to peels with only 2 rinks left on the green.

Team Lindores were facing defeat but despite this the front end of H Fisher and A Law played 4 good bowls which was enough for them to collect 1 shot and move the visitors into the lead.

Over on rink 3 team Taylor had just seen 3rd, G Robson, chap and lay a cracker to give hope to the watching men in blue.

Home skip L Haldane had one bowl left and managed to move the jack but luckily the jack move to a Jed bowl thus cementing a narrow 2 shot victory to push the Jed boys 2pts clear at the top of the league at the split.

K Johnstone 13 - 18 G Nagle
L Haldane 11 - 18 J Taylor
B Swanston 15 - 20 D Munro
I Crawford 19 - 12 N Hill
N McNally 21 - 13 E Lindores

Top Rink: S Fisher, T Turnbull, G Robson, J Taylor (skip)

With the league now split there are only 5 games remaining and Jeds fixtures are Waverley (A)
Melrose (H)
Abbotsford (A)
Hawick (H)
Wilton (A)

Current Table (top 6)
1 Jedburgh 0 0 0 0 933 789 144 16 pts
2 Melrose 0 0 0 0 927 795 132 14 pts
3 Hawick A 0 0 0 0 894 809 85 14 pts
4 Waverley A 0 0 0 0 882 830 52 14 pts
5 Abbotsford A 0 0 0 0 908 833 75 12 pts
6 Wilton A 0 0 0 0 865 794 71 12 pts


Winners; I Hughes, Babs Hogg (skip)



Playing their last home match before the league splits against the team who was joint 2nd in the league with them, the Jed boys knew this game could define their season already.

The game was tight from start to finish with both sides playing big shots.

Last weeks top rink ended up the only down but with them only loosing by 4 and all four other Jed rinks up it saw the home team push on to go joint top with the reigning champions, Melrose.

N Hill 14 - 12 D Wilson
D Munro 14 - 11 G Thorburn
J Taylor 16 - 12 B Blackwood
G Nagle 15 - 15 R Thorburn
E Lindores 14 - 18 D Miller jnr

Top Rink: S Fisher, T Turnbull, G Robson, J Taylor (skip)




The Gents traveled to bottom side Kelso looking to return to wining ways and avoid a potential banana skin.

kelso may currently be the bottom side in the league but with players such as the White brothers in their ranks the are still a side to respect especially away from home.

Jed didn't start to bright but once they found their feet on the tricky green they soon started to make head way.

Decent comebacks from the rinks skipped by Hill and Munro helped the team push on and with Taylor and Nagle holding slender leads over tough opponents, it was the rink headed by E Lindores that pushed the team over the line, Picking up a 6 on the last end to secure the win.

The result pushes the team back up into 2nd place after last weeks defeat saw them drop to 3rd.

D Poloczek 20 - 23 G Nagle
C Patterson 13 - 17 D Munro
A White 12 - 15 J Taylor
S White 27 - 9 N Hill
R Paxton 6 - 26 E Lindores

Top Rink: H Fisher, A Law, D Lightbody, E Lindores (skip)


The Ladies Rink of Laura Lightbody, Shirley Cockburn, Ann Gilfillan Irene Waters (skip), traveled to Coldstream to take part in the finals to take on a rink from the Berwick Club.
The ladies battled out a close match but despite there best efforts they could only muster 1 shot on the last end when needing 2 to take it to an extra end loosing by 13-14.



The Jed gents traveled to Earlston need a win to keep them at the top of the league. However, the loss of two skips had a big impact on the team and although they were in shout for most of the game they fell away at the end to go down by 15 shots.


G Cessford 17 - 11 R Hogg
S Greer 15 - 22 R Lindores
P Scott 17 - 13 J Taylor
N Kellett 21 - 12 N Hill
R Beattie 18 - 15 E Lindores

Top Rink; M Weekley, m Nichol, R Lindores (skip)



Sitting at the top of the league the home side were looking for another solid display to ensure top 6 status for the second half of the season.

The Jed team started well and raced into an early lead with Teams Nagle and R and E Lindores all playing well.

Nagle and E Lindores kept up the fine form but R Lindores team let a 10 shot lead slip and ended up loosing by 3 shots.

A Solid Performance by team Taylor and a close match between Munros 4 and Scotts also contributed to a fine win over the local rivals.

G Nagle 22 - 8 B Cowan
J Taylor 17 - 10 D Oliver
E Lindores 27 - 7 C Skeldon
D Munro 13 - 17 G Scott
R Lindores 16 - 19 Clk Skeldon

Top Rink: H Fisher, A Law, D Lightbody, E Lindores (skip)

To View the current standings click bordersba.leaguerepublic.com


With the triple and both the junior and singles dropping out in the quarter finals it was left to the pair of John Taylor and Euan Lindores to try and make it through to finals day.

The game started badly for the Jed lads loosing 7 shots in the 1st 2 ends. Chances did come and they did manage to crawl back to 7-5 however, the Gordon BC pair of Callum Donaldson and Craig Martin were playing well and never looked like giving up the lead going on to win by 18-9.

This result leaves the Jedburgh Ladies rink as the only qualifier for the Area finals on Sun 19th June at Coldstream BC.


Jedburgh BC sent 2 rinks to the Duns club to take part in the Tweedside competition.

The winners of this contest moved on to the Chirnside green to take on the winners from that area.

Jed were grouped with Kelso, Berwick and Duns and after 7 hrs of play they emerged as Group winners winning all 3 games.

They traveled the short journey to Chirnside to take on Coldsteam and with three ends to go in the final the Jed boys were 6 shots up and looking good.

Disaster struck though and on the final end with the game all square one of the Jed rinks lost a 5 on the last end and the other could only manage to gain 1 condemning them to a 3rd final loss in the last 4 years.

Squad
Rink1; D Lightbody, J Tunnah, J Taylor, E Lindores (skip)
Rink2; G Somerville, M Weekley, R Lindores, D Munro (skip)





The Jed Team always knew a tricky match was n the cards when the pulled up in Inerleithen to take on the St Ronans Club.

It was nervy start from the visitors but they did manage to pull out lead over the home team. The nerves never really left the side as when even 20 shots up the struggling rink skipped by E Lindores always left doubts in the Jed teams heads.

However, they did manage to scrape 5 shots together in the last 3 ends and combined with fine wins from teams Nagle and Taylor, they finished the game 17 shots up.

This win takes the team to the top of the league on shots difference.

To View the current standings click here bordersba.leaguerepublic.com

A Borthwick 7 - 24 G Nagle
I Thorburn 16 - 17 R Lindores
J Borthwick 6 - 20 J Taylor
D Pearce 13 - 11 D Munro
R Crawford 20 - 7 E Lindores

Top Rink: M Nichol, C Hogg, R Hogg jnr, G Nagle.


All gents are reminded to have their championship 1st round ties played by the end of the week.

Please make the effort to push the ties on.

Pairs ties are also drawn and we are looking for the 1st round to be completed by Jedburgh Festival time (8th July).

Thanks


With the Junior single, Grant Robson, Single, Dougie Munro, Pair, John Taylor and Euan Lindores and Triple of Steven Fisher, David Lightbody and Niki Hill all making it through to the east area semi finals it was up to the ladies to see if they could make an impression in this years qualifying.

The single of Babs Hogg and Pair of June Jackson and Ann Michie fell at the 1st hurdle but the rink of Laura Lightbody, Shirley Cockburn, Anne Gilfillan and Irene Watters managed to qualify for finals day on the 19th of June by defeating rinks from Tweedmouth and Lauder.

A result which sees a ladies rink from Jedburgh in action on finals day for the 4th time in 6 years. Well Done Ladies.





Jed gents moved into 2nd place in the league with a great win over table toppers Wilton.
The home side continued their fine form with a ruthless win with only team R Lindores suffering defeat.
Jed took the lead early on and never looked back although Wilton did close the gap around 12 ends the home side dug deep to fend off any chance of a come back to put themselves into second place in the league.


G Nagle 19 - 8 C Miller
J Taylor 16 - 7 C Sutherland
E Lindores 24 - 11 A Kyle
D Munro 18 - 11 C McDougal
R Lindores 12 - 20 A Brady

Top Rink; H Fisher, A Law, D Lightbody, E Lindores (skip)



With the Jed side sitting 3rd from bottom in the league they knew they had to step it up if they wanted to keep their top 6 ambitions alive.

A win at last years runners up would certainly help and that's exactly what happened.
Fine wins for Munro, E Lindores and Taylor, combined with a great come back from 12 shots down by R Lindores to earn a draw saw them record a fine win.

The only blip being a loss by team Nagle didn't distract from what was a gutsy performance from the boys in blue.

E McGregor 12 - 24 D Munro
W Anderson 11 - 20 J Taylor
C Spalding 11 - 20 E Lindores
S Clakson 20 - 20 R Lindores
M Christy 19 - 11 G Nagle

Top rink D Laidlaw, M Weekley, B Gray, D Munro (skip)



Playing a second consecutive game at home the Jed boys knew a win would push them towards the top of the league but the Gala lads had other ideas.

A steady performance from most of the team saw them in with a chance but over on rink 1 the wheels fell off as they went down b 25 shots condemning the team to a 5 shot defeat

E Lindores 21 - 11 K Campbell
J Taylor 17 - 14 G Bowers
G Nagle 18 - 6 T Newall
N Hill 7 - 32 T Mann
R Lindores 16 - 21 C Hancock

Top Rink; C Hogg, B Liddle, R Hogg, G Nagle (skip)



The Jedburgh Gents, playing at home for the 1st time this season, took on a young Ettrick Forrest with both sides looking fora win to kick start their seasons.

After the usual slow start from the home side, Jed soon took control and decent wins for Nagle, Lindores and Munro saw the gents record an impressive win.

G Nagle 24 - 8 C Sandilands
D Munro 23 - 14 G Sandilands
E Lindores 23 - 6 G Rees
R Lindores 16 - 12 P McVie
J Taylor 18 - 18 S Bell

Top rink: H Fisher, A Law, M Nichol, E Lindores (skip)



The gents team started their league campaign away to Selkirk and looked to start with a bang.
This did not happen as a slow start gave the team a lot to do and the team went down by 6 shots with Niki Hills rink the only one to score a win after coming back from 11 shots down.

H Bell 16 - 18 N Hill
J Purves 12 - 11 G Nagle
I Borthwick 17 - 16 J Taylor
D McLeod 15 - 13 D Munro
C McKinnon 21 - 17 E Lindores

Top Rink; G Somerville, K Cassie, D Lightbody, N HIll (skip)



The sheets are now on the boards for up coming tournaments.

If you wish to enter the tournaments please get your names in asap.

The sheets are also up for the club pairs, which will now take place over the year, as well as the championships.

Names down by the 9th May or you will not be entered in the championships. (memberships must be paid to enter the championships)

Please can ALL memebers make the effort to enter the tournaments where possible.

Thanks




All Gents wishing/willing to play in the Gents team are requested to attend the club on Wed night (27th) at 6.30pm for a practice match.

The League gets underway next week and we hope to hit the ground running so a good attendance is a must.

Selection Committee.


The Draws for the Scottish Championships have been made and are available from the menu or by clicking here Scottish Draws 2016


The first competition of the 2016 season got underway with a solid entry taking part on what was a seasonable April day.

The Competition was dawn from the hat and was played out in a round robin format.

The winning team on the day was settled by shots difference with the pair of Patt Watts and Babs Hogg (skip) edging Podge somerville and Dougie Munro (skip) both pair having won three games each.

Winners P Watts, B Hogg (skip)


The sheet is now up for names to be taken for this Sundays Starrett cup.

Please put your names up asap as it will NOT be drawn on the day.

Draw will be on Fri at 8pm.


The Jedburgh Bowling Club held its opening day on Sunday 17th April with President Somerville Raising the Club Flag and his wife Isobel throwing the 1st Jack.

A decent turnout played in the President v Vice President game but with the weather still feeling like a January afternoon, a shortened match was had with the Presidents team sneaking a win by 1 shot.

Good Luck to all our members for the up and coming season.




On Sunday 20th of March the club held its A G M in the club rooms with a large turnout attending.

A Minutes silence was observed for the passing of club members Joe Lamb, Robert MGinn and life member William Richardson.

President Lindores thanked the members for all the support during his term in office and stated that the gents reaching the last 8 in the Top Ten in Scotland was a particular highlight and congratulated Babs Hogg and Dougie Munro for winning the championships and gave a special mention to Dougie for winning the Champions of Champions.

The committee reiterated the fact that ALL members should keep buying and SELLING the lottery tickets as we still have some way to go the repay the loan for the new clubhouse.

President Lindores ended his term in office by nominating John Taylor as a Life Member to thank him for the years of hard work he put in to secure the new clubhouse for the future of Jedburgh Bowlers.

He then Nominated George Somerville as the new President for 2016 and wished him well.

Office bearers and committee can be found here Office Bearers 2016

DATES FOR THE DIARY:

Opening Day: Sun 17th April 2pm

Gents 1st league match: 4th May, away to Selkirk

Ladies 1st league match: 10th May, home to Melrose

Seniors 1st league match: 17th May, away to Buccleuch

The Club will be open from 2pm on Sat 6th Feb for the start of the RBS Six Nations Games.

All Welcome